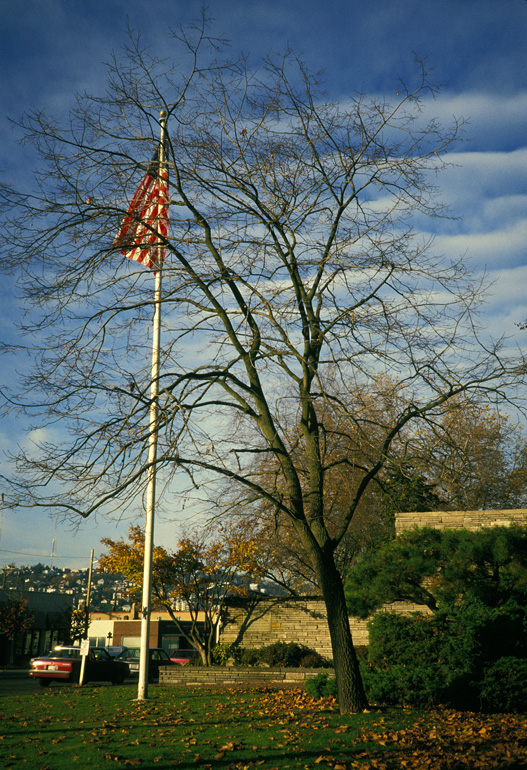 Denny Park Trees
After the regrade, Seattle's Denny Park was rebuilt from scratch in 1932 when L. Glenn Hall, of Cambridge, Massachusetts, landscaped it. The building was erected in 1948. The park is a rich green five-acre oasis in an otherwise paved, bleak commercial area. Viewing aerial photographs, or peering from the Space Needle, we see its lush verdure surrounded by concrete desert.
After the regrade, Glenn Hall from Cambridge, Massachusetts, laid out a formal path and grid system for the park's reincarnated existence. Although I've not researched Hall's design motives, the trees seen today suggest that he chose conventional species without exception, and used no Northwest natives. Nonetheless, even if Hall's design was not inspiring or innovative, nor the trees out of the ordinary, Denny Park has matured well, has seen six decades of change, and as a result it does excite tree-lovers today.
The park has 43 different kinds of trees. Some are as beautiful as any, others impressively big for their kind, and a couple are exceedingly rare species.
Hybrid Planetrees or Sycamores (Platanus x hybrida) are the most abundant trees, and boast the biggest trunks. These are remarkable for rapid growth, large dimensions, and hardiness to city conditions. Their bark is attractively flaky and patchily colorful during winter; their broad, maple-like leaves cast welcome shade all summer. They are the trees along the monorail route and at Pioneer Square. Since they easily can grow 100 feet wide, we should thin the crowded masses and, in the future, plant them farther apart.
Austrian Black Pine (Pinus nigra) is the commonest conifer; 17 grow in the park. This dark species is not as strong or long-lived in polluted areas, nor so large, and if the park specimens decline and perish they will be little missed.
Tulip Tree or Yellow Poplar (Liriodendrom Tuilpifera) makes a towering north - south colonnade through the middle of the park. Some are the tallest trees, more than 100 feet. These notable eastern hardwoods are the magnolia family's largest members, and shouldn't be confused with their more colorful shrubby relations also called tulip trees. Their uniquely shaped leaves turn to gold before dropping in November. Underneath the row of giant tulip trees grow small Kobus magnolias from Japan, blooming pure white in April.
An American Persimmon tree (Diospyros virginiana) stands by the flagpole in front of the 1948 administration building. This specimen, though not suggestive of champion stature compared to many other Denny Park trees, is actually one of Washington's largest persimmons --these trees grow much faster in hotter climates than ours. Note the dark gray, deeply chunky bark. Persimmon trees leaf-out late in spring, bear visually inconsequential flowers, but produce orange autumn fruit that is a delicacy of both beauty and flavor. Apparently this persimmon, the only one in Seattle's park system (other than at Washington Park), was acquired by a park employee. Probably the four elms nearby, lining Dexter Avenue at the park's extreme western edge, were similarly obtained.
These elms are amazingly rare. There are two species, each with two specimens. Both species are from the southeastern U.S. and are virtually never planted in the Pacific Northwest. Neither species is at the arboretum, so their presence at Denny Park, growing side by side, is important for those of us seeking greater familiarity with trees.
Winged Elm (Ulmus alata), also called the Wahoo, is one of several elms known as Cork Elm. Its dark, slender twigs are frequently "winged" distinctively with flat, opposite thin ridges of cork. I know no explanation for why these corky twigs are sometimes made, sometimes absent, nor is their utility to the tree known. The leaf is small, and the tree rather dainty for an elm. It produces minuscule flowers in late winter that give rise to tiny, very hairy, winged seeds.
The southernmost of the four Denny Park elms is one of these, albeit wingless. It leans in a marked degree to escape the shade of a brutish sycamore. The second "Wahoo" is just north of the park building entrance. It is open-grown and therefore symmetric, and sports a few corky branches. Some southern cities have many of these elms, but only one major wholesale tree nursery I'm aware of still sells the species. No other examples are known to me in Washington, although it is at Portland's Hoyt Arboretum, and the Capitol grounds at Sacramento have splendid examples.
September Elm or Southern Red Elm (Ulmus serotina), is the second rare southeastern species found incongruously at Denny Park. It, unlike most elms, produces flowers during September and October. Compared to Winged Elm, it is coarser branching, has larger leaves with more veins, and overall presents a yellowish complexion. There is a small one at Capitol Hill's G.A.R. cemetery/park, but otherwise none are known hereabouts besides the Denny Park pair. This may be just as well, as the species lacks the grace, grandeur and color purity of the American White Elm, as well as other shade trees. Moreover, our cool climate may be somewhat inhibiting to its fullest development.
LIST OF THE 43 TREES:
Red ALDER; Alnus rubra
A native species. Several young ones are in a grove.
Kaido Crab-APPLE; Malus x micromalus
North border, central area.
Hopa Crab-APPLE; Malus 'Hopa'
North, central area.
Redvein Crab-APPLE; Malus Niedzwetzkyana
NE corner (i.d. not certain).
Japanese Flowering Crab-APPLE; Malus floribunda
Two.
European BEECH; Fagus sylvatica
Smooth bark.
Weeping European BEECH; Fagus sylvatica f. pendula
One, south of the building.
White BIRCH; Betula pendula
White bark.
Deodar CEDAR; Cedrus Deodara
Pollution-sensitive.
Western Red CEDAR; Thuja plicata
Native species.
Kwanzan CHERRY; Prunus serrulata 'Kwanzan'
Pink cotton-candy flowers in April.
Higan CHERRY; Prunus subhirtella
March flowers are small and palest pink.
Korean Hill-CHERRY; Prunus verecunda
Near the front of the building.
Hinoki CYPRESS; Chamæcyparis obtusa
Near the front of the building.
Plume Sawara-CYPRESS; Chamæcyparis pisifera f. plumosa
From Japan.
Thread Sawara-CYPRESS; Chamæcyparis pisifera f. filifera
Foliage more elongated and gaunt.
Eastern DOGWOOD; Cornus florida
Twiggy; blooms in May.
September or Southern Red-ELM; Ulmus serotina
Two; the largest known in Washington; extremely rare. Unlike Winged Elm, it is coarse branching, has large leaves and overall presents a yellowish complexion.
Winged ELM or Wahoo; Ulmus alata
Two; the largest known in Washington; extremely rare.
EMPRESS TREE; Paulownia tomentosa
Near the building entrance.
Red HAWTHORN; Cratægus lævigata 'Punicea'
Deep red May flowers, dense horizontal branching pattern; West corners.
English HOLLY; Ilex Aquifolium
Very common, familiar species.
Honey LOCUST; Gleditsia triacanthos
Notice the thorns on its trunk.
Kobus MAGNOLIA; Magnolia Kobus
On North-South axis, but dying out gradually. White flowers in April.
Bigleaf MAPLE; Acer macrophyllum
Native species.
English MAPLE; Acer campetre
Small leaves for a maple.
Japanese MAPLE; Acer palmatum
Thrives in our climate; numerous varieties.
Norway MAPLE; Acer platanoides
Tough urban tree; reseeds in wild areas of Seattle.
Sugar MAPLE; Acer saccharum
Orange fall color. Our dryness just makes it more intensely vibrant.
English OAK; Quercus robur
Small bluntish leaves with late, dull fall color.
Red OAK; Quercus rubra
Large leaves that are pointed and turn red in fall.
PERSIMMON; Diospyros virginiana
One by flagpole is as big as any known in the State.
Austrian Black PINE; Pinus nigra
The commonest conifer; 17 grow in the park.
Eastern White PINE; Pinus Strobus
One.
Japanese Red PINE; Pinus densiflora
By the building entrance.
Hybrid PLANETRE or SYCAMORE; Platanus hybrids
The most abundant trees, with the biggest trunks.
American SYCAMORE; Platanus occidentalis
Disease-prone; straight trunks.
Blireiana Flowering-PLUM; Prunus x blireiana
Hot pink flowers in February-March; bronzy foliage all summer.
Sierra REDWOOD; Sequoiadendron giganteum
Can grow enormous; some in Washington are more than 150' tall.
Norway SPRUCE; Picea Abies
Dark, prickly tree; long narrow cones.
TREE OF HEAVEN; Ailanthus altissima
Bold, dramatic foliage; smooth bark.
TULIP TREE; Liriodendron Tulipifera
Makes a towering north - south colonnade through the middle of the park. Some are the tallest trees, more than 100 feet
Black WALNUT; Juglans nigra
Nuts available in October-November.
(originally written in February 1994)
Back