Eating Trees
Euell Gibbons, famous wild edible plant enthusiast, starred in a TV commercial for Grape-nuts® cereal. He asked "Did you ever eat a pine tree? Some parts are edible." True enough. In fact, some parts are actually worth nibbling. If you catch the unripe pollen cones in April or May they are sweetly piney, moist, acceptably chewy, and no doubt nutritious. They are small, clustered around the twigs, and variously yellow, pink or purple. After the pollen is ripe and released as dust, they shrivel, turn brown and drop. One species or another may appeal to you.
Most of our salad fare is from annual crops which are sown as seeds, harvested and eaten within a year. Examples include lettuce, spinach, tomatoes, cabbage, cilantro and arugala.
The important thing is not what kind of lifecycle a plant has, nor whether it is a low-growing herb or a tree, but that it offer us tasty, palatable, nutritious growth. Likewise, whether the plant is absolutely wild or a domesticated race or intermediate is immaterial to our digestive system. In Seattle, right about this time of year, there is a plethora of exciting salad ingredients available. If I had the time and a big enough salad bowl I could go fetch more than 250 different choice kinds of plants. This doesn't include houseplants, market produce or anything not growing outside in a yard or park.
Eating tree leaves and flowers is unheard of to most of us. Why not give some a taste? Go grazing. Make sure of your identifications, and go easy on quantity, in case you may be allergic to something without even knowing it.
Elm trees (Ulmus spp.) of sundry kinds are conspicuous with pale green little wafer-like seeds, thin and roundish. Their flavor is bland like lettuce, but as long as they're succulent and immature they're good fare for bulk in salads.
Dawn redwood (Metasequoia glyptostroboides) is full of tender, ferny new growth, which tastes like carrot greens. Nibble some, although don't pretend you're a rabbit and try eating a meal of the stuff.
If mucilage is liked, as in okra, chew young leaves of lindens, also called basswoods (Tilia spp.). They are mild and pleasant.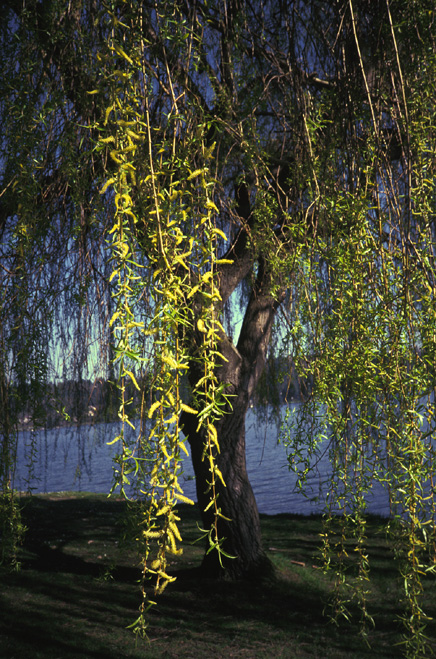 If slight bitterness is enjoyed try weeping willow (Salix babylonica and hybrids) leaves. They are much sweeter than those of most willows.
For floral perfume try flowers of empress tree or princess tree (Paulownia tomentosa). They are large, sky blue, and slightly sticky with minute glandular hairs.
Redbud (Cercis spp.) flowers offer bits of pink, ever so acidic. The Chinese species is tastier than the European or American species.
Our native bigleaf maple (Acer macrophyllum) is about Seattle's most common tree, conspicuous now with is dangling clusters of chartreuse flowers, full of nectar. They are a very gratifying treat if eaten at just the right time --experiment with unopened buds, fully opened flowers, etc. The leaves are not worth eating. Red laceleaf Japanese maples do have edible young leaves, but they quickly grow firm and chewy.
Sorrel tree, also called sourwood (Oxydendrum arboreum) has young leaves worth tasting, but they are a far cry from culinary sorrel or even wild sorrel.
Rarer trees, scarcely found in Seattle other than at the arboretum, are also edible, some tasting oniony, lemony or peppery. But I cannot in good conscience list them, lest the arboretum specimens get "eaten alive" by unscrupulous adventurers. It's a fascinating subject to learn what's edible. You can enliven ordinary salads, add leaves to sandwiches, or nibble them as you take walks or work in your yard.
(originally published in The Seattle Weekly, April 1997)
Back