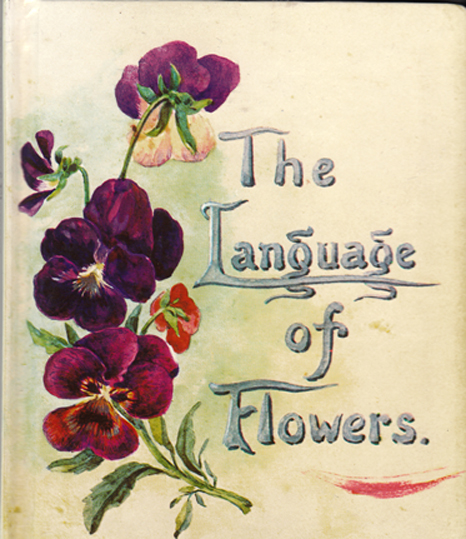 The Language of Flowers
The Language of Flowers is a code of symbolic meanings given to plants. It was a great fad in Victorian times, then fell into disfavor and is now largely forgotten and little known. A thousand or so plants, from mosses and mushrooms to flowers, fruits and trees, were given more or less appropriate meanings, affectations, keywords, sentiments. A bouquet of flowers could thus convey a complicated message. Numerous guidebooks were published to enable people to compose or translate messages. So many people indulged themselves that some plants were assigned multiple meanings. Holly means variously 1) am I forsaken? 2) foresight 3) domestic happiness. Here are a few common plants and meanings. Have fun with them over the dinner table.
Apple: temptation. Cabbage: profit. Cactus: warmth. Cedar of Lebanon: incorruptible. Forget Me Not: true love. Grapevine: intoxication. Hawthorn: hope. Hemp: fate. Juniper: protection. Lemon: zest. Lettuce: coldheartedness. Mint: virtue. Mushroom: suspicion. Mustard Seed: indifference. Narcissus: egotism and self love. Olive: peace. Palm: victory. Poison Hemlock: you will cause my death. Rhubarb: advice. Rose: love. Rosemary: remembrance. Strawberry: perfect excellence. Watermelon: bulkiness. Willow: forsaken.
If you want, libraries have plenty of 19th and early 20th century books with which you could make a long list of these things.
Along that line, it is well worth noting that Seattle is fortunate to have a library devoted exclusively to plants and gardening. Founded in 1985 by philanthropist Betty Miller, it is called the Elisabeth C. Miller Horticultural Library, and is at the U.W.'s Center for Urban Horticulture. The collection has some 7,000 books, 300 periodicals, an excellent nursery catalog file, computer resources, and helpful staff. I have nothing but praise for the place. It is open to the public six days a week, although most of the books are for reference only. For hours, directions, or more information, call the library at 543-0415.
Whatever your information needs, the library can help. Suppose your garden has been chosen for the annual convention of cutworms, aphids, slugs and snails (CASS). So you want to put out "NOT WELCOME" signs. Find out about pest management at the library. Have you ever been intrigued by a certain plant, yet know little or nothing more about it than its name? Its name is the key for you to unlock the library's treasure chest of information. Want to learn about the whole extent of local horticulture? Take a look at Stephanie Feeney's brand new 7th edition of The Northwest Gardeners' Resource Directory. Sort of a library in one book, it is an essential reference for local gardeners and plant lovers. Visit the library, peruse some books, and send a floral message to someone dear.
(originally published in The Seattle Weekly, April 1997)
Back