Searching for Big Trees
Early loggers were proud to fell the mightiest trees. We, their descendants, enshrine our record-size specimens, admiring the sight of nature's most massive achievements. Tree measuring is by no means new, but only in the last 30 years has it had widespread publicity. Identifying the largest specimens has gradually become more a mainstream activity and less the passion of a few eccentric plant-lovers. Records are kept, nearly all by unpaid volunteers, but no international regulations govern the practice.
The obvious question is why measure trees? Tree measuring is done for various reasons. Competition in exploring, the thrill of the find, the sharing of records and discoveries are among life's small pleasures. Finding trees larger than have ever been found before is like scaling an unclimbed peak or mapping uncharted wilderness. Although no cash bounty is offered, dozens of hikers and tree lovers send to authorities reports of record-breaking trees.
On a practical level, tree measuring helps people who want to know how big a tree can grow. This is especially the case with non-native park and garden trees. Many trees grow either larger or smaller in cultivation than they do in their native habitats. Scientists also are duty bound to describe what every tree looks like, including maximum growth and performance. Measuring helps conservation as well because public support for tree preservation is fueled by the appreciation of champion trees. In an effort to save the best stands of trees, we look for the largest specimens.
Anyone can do the measuring. Sponsoring agencies are usually within the fields of tree care, horticulture, forestry or environment. In any given region or city there is either a coordinator position or a volunteer role waiting for someone to seize the opportunity. Some registrars recognize only native or naturalized trees, while others acknowledge trees of any species. The most dedicated reporters note the date of the measurements and such details as whether the tree top is intact. Techniques vary. At the least, a trunk measurement is taken -- circumference or diameter in feet, inches or metric units. Heights are variously estimated or measured. The extent of branching or width of the tree is least often recorded, being important mostly for trees that grow wider than tall.
Big trees are thought of as just that: so large that we stand in awe and admiration. Record trees can be small, however, because for every kind of tree, including those of species that normally are small, one example will be the largest recorded or the "champion" for size for that species. The tallest known vine maple (Acer circinatum) was 63 feet in 1992. This tree is on the big tree list, while a Douglas fir (Pseudotsuga Menziesii) could be 300 feet tall and 8 feet thick may not stand out from its massive associates. Big tree searchers look for trees with one dimension or another that is greater than has yet been reported. Although huge trunks receive most attention, also sought are lofty trees and those with broad crowns. Mountain hemlock (Tsuga Mertensiana) provides a good example: one tree is tallest at 194 feet, another is broadest at 49 feet wide, and a third has the stoutest trunk --23'3" circumference or 7'5" diameter.
On the Pacific Coast, there are big tree registrars for British Columbia, Washington, Oregon and California. Robert Van Pelt and I, two Seattle tree fanatics, are trying to keep records for the entire Pacific Coast. Between us we possess all the published material as well as thousands of our own measurements. We keep records on computer, give lectures, and help the cause any way we can.
The world of big trees, past and present, was embraced by a British Columbian, Al Carder. Carder's findings are beautifully presented in his 1995 book Forest Giants of the World. He could not include every kind of tree --there are far too many-- but he discusses more than 140 species that grow large. To most of us a tall tree is 75 to 100 feet, but thousands of Douglas firs don't even branch that close to the ground. Van Pelt and I measure even shrubby small trees --star magnolia, hollies, crabapples, and so on.
Every tree has genetic regulators that determine its performance in a given environment. Yew (Taxus brevifolia) is slowest of all, but lives for the ages; grand fir (Abies grandis) shoots skyward 200 feet in 50 years, but is rarely seen either thick or over 300 years old; vine maple is essentially a gigantic shrub, rarely with a single trunk.
Some examples of specific big trees show the range of trees we measure. A celebrated Sitka spruce (Picea sitchensis) on Klootchy Creek near Seaside, Oregon, receives so many visitors that recently a $50,000 boardwalk was constructed to preserve its roots from compaction. It is perhaps 700 years old, and truly amazing in stature. Based on its wood volume (10,800 cubic feet), it is the third largest spruce in the world --although in pioneer times bigger specimens existed. Its top broke at 206 feet, it is 93 feet wide, and its trunk is 56'1" circumference (about 18 feet in diameter) as of 1988. Earth's tallest spruce, the "Carmanah Giant" on Vancouver Island, was 314 feet tall in 1992.
A second old growth native species is much smaller and receives extremely few visitors --yet it is fascinating for another reason. Remote in the depths of Washington's Olympic Mountains, the world's largest alpine fir (Abies lasiocarpa) is the reward for an arduous four-day hike. When the fir was first measured in 1964, foresters marveled at its massive trunk, which had been carefully hollowed long before by an explorer or hunter to serve as an storehouse. Only 124 feet tall, it boasts a swollen hollow trunk 21'0" around (= 6'8" diameter) as of 1992. A person can clamber inside, where it feels like a musty old attic. Alpine growth is always slow, and the largest annual rings visible in the tree's hole are about an eighth of an inch wide. This tree may be 500 years old --now a thin band of bark and living wood gripping the soil.
In 1914 an English oak (Quercus robur) was planted near Sidney, British Columbia. By 1988 it might have become the largest in North America, at 98 feet tall, 104 feet wide, with its trunk 15'3" circumference (= 4'10" diameter). Alas, it died when an uphill housing development altered the groundwater drainage pattern.
The world's largest European mountain ash (Sorbus aucuparia) grows at the zoo in Seattle. It is 40' tall, 42.5' wide, its trunk 11'0" around (= 3'6" diameter) in 1995. Nearby, at Bremerton, is another specimen, which, at 85 feet in 1995, is the tallest ever recorded.
In 1947 the arboretum in Seattle obtained seeds of a shining or glossy hawthorn (Cratægus nitida), the natural range of which is Missouri, Arkansas and adjacent states. Hawthorns in general are thorny little trees without outstanding landscape value, but this species is among the best of the clan, with a rounded to broadly flattened crown of thorn-free or sparingly thorny branches, and an attractively fluted trunk. The Seattle specimen was planted in 1951, then moved from the arboretum to the University of Washington campus in 1962 when a floating bridge was constructed across Lake Washington. In 1988 it was the largest of its kind --22 feet tall, 36.5 feet wide, its trunk 4'6" in circumference (= 1'5" diameter). But again the tree had to be moved to a third home! This time the price of progress was $7,500 to move the tree to make way for a multimillion-dollar new chemistry building. The tree lived and is recovering.
Many Civil War era trees were planted around California's capitol at Sacramento, and some of them are the largest of their kind known on the West Coast, if not the continent. One such is a Deodar cedar (Cedrus Deodara), 101 feet tall, 17'9" circumference (= 5'8" diameter), 84.5' wide (1989).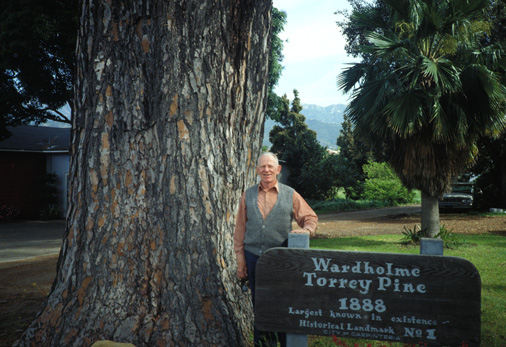 A Torrey pine (Pinus Torreyana) planted about 1888 in Carpinteria, California, is interesting because it is far larger than any in the wild, where it is extremely rare, small, and often crooked. In 1993 this Carpinteria landmark was 126' tall, 130' wide, its trunk 20'5" around (= 6'6" diameter).
As for naturally dwarf trees, the popular Jenson Date and Citrus Place in Indio, California, has a Marumi or round kumquat (Fortunella japonica), planted about 1920 that in 1993 measured 24 feet tall, 16 feet wide, its trunk 2'9" around (= 9" diameter). Does anyone know of a larger one?
(originally published in Pacific Horticulture Summer 1996, pages 38 - 40)
Back