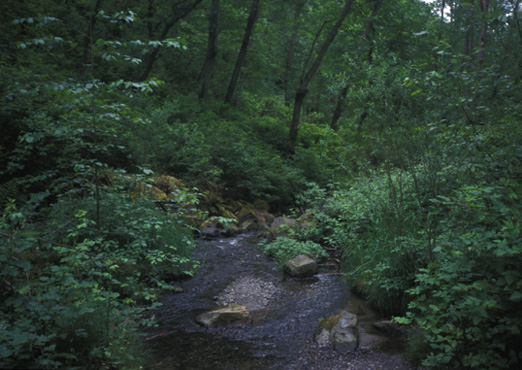 Daylighting
Pretend that Ravenna Park is a microcosm of Seattle. A hundred years ago the park was lush, clean, productive; a splendid forest featuring trees 350 to 400 feet tall with trunks more than 12 feet thick. Lilies, orchids, and other wildflowers flourished. Its creek, fed from Green Lake, sparkled and supported fish.
Beginning in 1911 we logged the park, bridged it, filled parts of it, and emptied its creek into a sewer. The wildlife and plants grew yearly less native and more weedy. Pollution, erosion and compaction hurt the park. Various user groups compete: athletes, dog walkers, homeless people, cyclists and joggers, tree huggers, etc. The Ravenna Creek Alliance, mostly of nearby residents, works to improve the park, help Ravenna's natural environment, bring people closer to nature, and works cooperatively in a classic public-private partnership. Sounds good.
Daylighting is a term used to describe the resurrection of buried or hidden streams or ponds. In Seattle various creeks and streams run through greenbelts, parks and ravines, to eventually join Lake Washington or the Sound. Better known ones include Thornton Creek, Piper's Creek, and Longfellow Creek.
Rescuing Ravenna Creek from the sewer, and reconnecting it with the University Slough and thence to Union Bay, means daylighting the creek from the park's southeast end to the slough three-quarters of a mile away. Problem is, the University Village shopping center is right in the way. Once a boggy marsh, the Village is now an asphalt parking lot around numerous retail outlets. Bringing Ravenna Creek through the Village would help shoppers better connect with nature; a union of commerce and conservation.
Similarly, folks working elsewhere in town have proposed daylighting part of the arboretum stream, reclaiming Sand Point's lost Mud Lake, and making a new salmon stream in Interbay.
There's two principle motives. Above all it helps people feel nature's presence better. Buried culverts go wholly unnoticed, but if you cross a bridge over gurgling water you become at least subconsciously aware of the drainage system. Second, it helps fish, frogs, and other animals by adding more natural habitat, a plant-lined corridor. Other advantages include getting the clean water out of the sewer system, and fostering community involvement and education.
To make the dream come true may cost millions of dollars. Since Seattleites are the ultimate compromisers in civic matters, everyone avoiding extremes to meet each other half way, the likely resolution of any daylighting proposal is to vote for a no-frills version where lots of volunteer labor is involved, and tax dollars are spent no more than necessary. This city --like the U.S.-- was largely built upon exploiting nature's riches, and now that we have wealth, learning, and time to reflect and act deliberately, we know that our fundamental need is a healthy environment, for our air, food, water, and peace of mind.

(originally published in The Seattle Weekly, September 1997)
Back