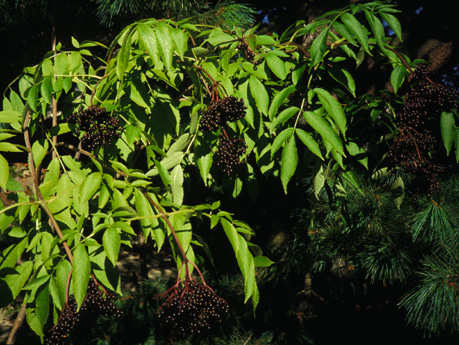 Elderberry; Sambucus canadensis L.
Honeysuckle Family; CAPRIFOLIACEÆ
Elderberries are too often reputed to be fit only for birds. You can buy blueberries, raspberries, currants, or grapes at any nursery, but try finding cultivated elder bushes and you're likely to be incredulously asked "Why on earth do you want them?!" Good reasons abound!
All elder species are rank shrubs or small trees with stout, pithy shoots, leaves that stink when bruised, and small whitish flowers borne in conspicuous clusters. The berries are small and juicy, have several tiny seeds, and vary greatly in color. Every state but Hawaii has at least one kind of elder. The bushes tolerate poor soil, are very hardy, and their fully ripe berries are edible.
Two kinds grow in Seattle: Redberry elder (Sambucus racemosa) is abundant, especially in woods; Blueberry elder (Sambucus cerulea), with its striking powder-blue berries, is scarce, found in open, sunny, drier sites such as on Beacon Hill. The red berries are foully flavored raw, and nobody bothers to cook them. The blue berries are OK even raw, and some of us find them delectable.
The elder cultivated on a large scale, with many named fruiting varieties, is Sambucus canadensis. It has been called variously the American Black, Sweet, or Pie Elder, and grows in 37 states (from Maine to Florida, North Dakota to southern Texas.) The selection of it that I have planted in my garden is known as 'John's Improved' and originated in Nova Scotia. I obtained it from a mail-order nursery and was informed that it needed another variety to serve as a pollenizer. This has not proved true.
Year after year it sets heavy crops of white flowers from June into early August, which in turn bend down under the weight of the berries (SEE PHOTO ABOVE), deep purple, juicy, and available from mid-August until mid-October. The flavor doesn't light-up anyone's face with joy, but is "interesting." The plant is 10 feet tall and should be pruned lower so the topmost berries can be picked without the use of a ladder. Oddly, only one year out of the 10 that it has borne berries has seen birds competing with me for the fruit. There are no pest or disease problems. The shrub is pruned in winter and kept watered during summer. Some of its berries drop into the compost heap, but no seedlings arise. So it has proved a worthwhile plant, needing minimal care, and consistently yielding good berry crops. The fruit flavor is not the best among elderberries, but it is healthy food and plentiful. The flowers are pretty, as are the foliage and berries. In winter, however, the thing is deplorably stark and clumsy.
There are reports of some elder varieties that send up weedy suckers from their roots. Mine has been well behaved. There are very few other gardens locally that have the cultivated American elder, though quite a few Seattle gardens have European black elder (Sambucus nigra), which grows larger than its American cousin, and has pure black, smaller berries, also good to eat. Wine, jelly, and other culinary creations can be made from the berries of any elder. The flowers, too, are edible, and are dried for tea-making or made into fritters (said to be laxative) or tempura. The unripe berries, the twigs, and foliage are more or less poisonous.
To grow an elder of any kind, simply cut a long shoot in winter and stick it in the ground. More often than not it will take root and grow. Remember, the berries will either be eaten (by people or birds) or will eventually drop to the ground, and their dark juice can stain --the dyes used to stamp meats are of elderberry juice. The least costly way to buy cultivated elder varieties is through mail-order nurseries Back East such as Burpee, Henry Field's, Miller, or Stark Bro's.
(Originally published in the October 1989 Seattle Tilth newsletter, along with an illustration by Annie Figliola.)
Back