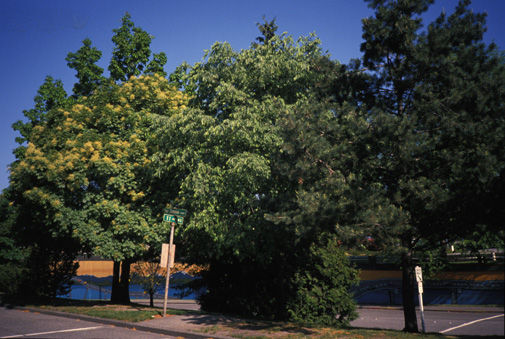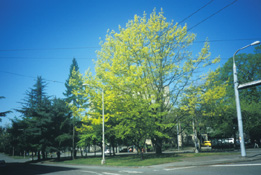 University of Washington Friendship Grove of Trees
Autumn 1985 marked the 25th anniversary of the International Friendship Grove of trees, located on the University of Washington Campus Parkway between Brooklyn Avenue NE and 11th Avenue NE. The grove was an ambitious attempt to commemorate the 5th World Forestry Congress held in Seattle in 1960, via a living, permanent symbol, and to provide a down-to-earth demonstration of the friendship and unity among the 66 countries represented at the congress. Even as memories of the congress gradually fade away, the trees themselves take on an increasingly valuable role as a miniature arboretum.
For more information, consult these early articles:
American Forests, November 1960: "Many Nations, One Goal" pp. 10-15, 40-47.
American Forests, June 1966: "Seattle's Trees For Peace" pp. 34-37.
University of Washington Arboretum Bulletin, Winter 1960: "The Arboretum and the Fifth World Forestry Congress" pp. 33-34.
University of Washington Arboretum Bulletin, Winter 1964: "A Further Report on the International Friendship Grove" pp. 82-85, 113.
In 1985 I published a list of the trees remaining as of then, in:
University of Washington Arboretum Bulletin, Summer 1985: "The Friendship Grove Revisited 25 Years Later" pp. 20-26 (the list on pages 24-26).
In my 1989 book Trees of Seattle the same list, updated, appeared on pages xxiii-xxvi. The version you see below is yet another update, as of January 2003. At this point, as before, some trees that died were replaced with other kinds; some that died have not been replaced at all; most are currently unlabeled and others mislabeled; and the western end is an overgrown mess. But in general, the grove has proved a success. As of January 2003 there are 52 trees remaining, 28 of them unlabeled. In addition, at the western end near 11th Avenue NE, there are wild specimens of the following trees: European White BIRCH, Western White PINE, Common HAWTHORN, English HOLLY, Bigleaf MAPLE, and MADRONA. These are well established and obvious; in addition are various little Algerian FIR seedlings, and the like.
The following listing of the trees is arranged as they exist going from east to west, with a loop around the western end where the dense Escallonia shrubbery is. Most name plaques are gone, others bear inaccurate names. A tree representing a certain country is not necessarily native to that country.
European BEECH
Fagus sylvatica
Germany
Red OAK
Quercus rubra
Denmark
Montpelier MAPLE
Acer monspessulanum
Italy
Oriental HORNBEAM
Carpinus orientalis
Israel
Western LARCH
Larix occidentalis
The Union of South Africa
Eastern HEMLOCK
Tsuga canadensis
Venezuela
Cork Tree (OAK)
Quercus Suber
Spain
Eastern White PINE
Pinus Strobus
Guatemala
Hybrid GOLDENCHAIN TREE
Laburnum x Watereri 'Vossii'
Switzerland
Scots PINE
Pinus sylvestris
Sweden
European Hop HORNBEAM
Ostrya carpinifolia
Greece
CHINA-FIR
Cunninghamia lanceolata
China
European White BIRCH
Betula pendula
Finland
English OAK
Quercus robur
The United Kingdom
Engelmann SPRUCE
Picea Engelmannii
Uruguay
Littleleaf LINDEN
Tilia cordata
The Netherlands
Deodar CEDAR
Cedrus Deodara
India
Sycamore MAPLE
Acer Pseudoplatanus
France
Douglas FIR
Pseudotsuga Menziesii
The United States of America
12th Avenue NE intersects here
Siberian LARCH
Larix sibirica
The Soviet Union
Polish LARCH
Larix decidua ssp. polonica
Poland
[Larger than the Siberian LARCH]
Arizona Black WALNUT
Juglans major
Cameroon
[Originally listed as Juglans Hindsii, then as Juglans microcarpa.]
MADRONA
Arbutus Menziesii
Thailand
Amur MAPLE
Acer Ginnala
Bulgaria
[Intended to be Tatarian Maple, Acer tataricum.]
Goldtwig White WILLOW
Salix alba var. vitellina
Ireland
[Intended to be Whitebeam, Sorbus Aria.]
Norway MAPLE
Acer platanoides
Belgium
Common or European MOUNTAIN ASH
Sorbus aucuparia
Czechoslovakia
Boxleaf AZARA
Azara microphylla
Peru
Lodgepole PINE
Pinus contorta
Malagasy
Oriental ARBORVITÆ
Thuja orientalis
Burma
Montezuma PINE
Pinus Montezumæ
Mexico
[Intended to be Jelecote Pine, Pinus patula.]
Macedonian PINE
Pinus Peuce
Rumania
Sugar MAPLE
Acer saccharum
Canada
[Either the Schneckii or nigrum subspecies.]
Limber PINE
Pinus flexilis
Honduras
[Intended to be Sugar Pine, Pinus Lambertiana.]
sidewalk intersects here
European HACKBERRY
Celtis australis
Hungary
Western Red CEDAR
Thuja plicata
The Philippines
Manna or Flowering ASH
Fraxinus Ornus
Iran
Dragon SPRUCE
Picea asperata
Yugoslavia
[Intended to be Serbian Spruce, Picea Omorika.]
Chestnut OAK
Quercus Prinus
Gabon
Italian CYPRESS
Cupressus sempervirens
Jordan
[Originally listed as Cupressus Lindleyi, a name considered synonymous with C. lusitanica.]
Roblé Southern-BEECH
Nothofagus obliqua
Argentina
[Cut in April 1991, but it resprouted.]
Sakhalin SPRUCE
Picea Glehnii
Viet-Nam
Lawson CYPRESS or Port Orford CEDAR (died in December 2003)
Chamæcyparis Lawsoniana
Sudan
Himalayan SPRUCE
Picea Smithiana
Nepal
Red SPRUCE
Picea rubens
Liberia
SWEETGUM
Liquidambar Styraciflua
Haiti
Turkish OAK
Quercus Cerris
Turkey
Portugal LAUREL
Prunus lusitanica
Portugal
Blue Atlas CEDAR
Cedrus atlantica f. glauca
Lebanon
[Intended to be Cedar of Lebanon, Cedrus libani.]
Algerian FIR
Abies numidica
Tunisia
MONKEY TREE
Araucaria Araucana
Brazil
[Originally listed as Eucalyptus Johnstonii.]
Bigleaf MAPLE
Acer macrophyllum
Ghana
The following listing indicates the 14 trees that have died:
Norway SPRUCE
Picea Abies
Norway
Austrian PINE
Pinus nigra
Austria
Japanese Red PINE
Pinus densiflora
Japan
[Died 1989-90.]
Korean PINE
Pinus koraiensis
Korea
Paper MULBERRY
Broussonetia papyrifera
Malaya
[Died in 1985.]
White FIR
Abies concolor
Ivory Coast
Sitka ALDER
Alnus sinuata
Iceland
Himalayan HORSE CHESTNUT
Æsculus indica
Pakistan
Cider Gum EUCALYPT
Eucalyptus Gunnii
Australia
[Originally listed as Eucalyptus gigantea, a name considered synonymous with E. delegatensis.]
Red Southern-BEECH
Nothofagus fusca
New Zealand
[Died in the winter of 1988-89.]
Noble FIR
Abies procera
Colombia
[Dead in 1991.]
Small-leaf EUCALYPT
Eucalyptus parvula (E. parvifolia)
Indonesia
[Originally Golden Chinquapin (Chrysolepis chrysophylla); this Small-leaf Eucalypt died in 1986.]
Dombey Southern-BEECH
Nothofagus Dombeyi
Chile
[Cut in April 1991.]
Back