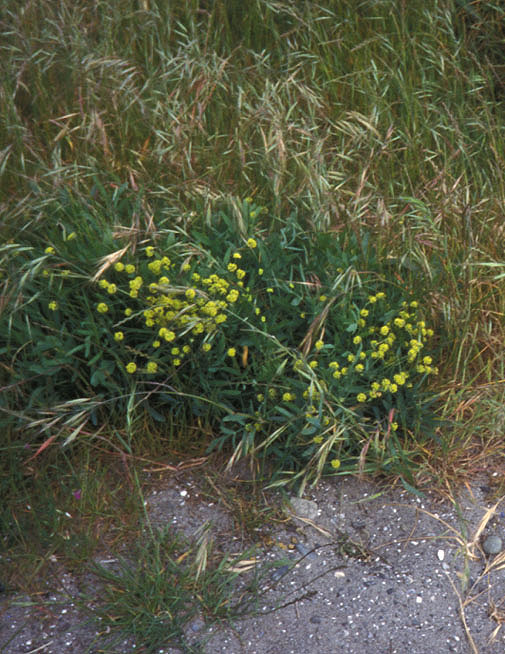 Indian Celery; Lomatium nudicaule (Pursh) C. & R.
Carrot Family; UMBELLIFERÆ (APIACEÆ)
Now, what is so special about this admittedly plain-appearing plant? If its flowers were showier, it might have long since been included in perennial flower borders. The foliage is by no means ugly, nor does it stop people in a quivering trance of admiration.
It is ho-hum, winning some favor by being unfamiliar to almost all gardeners --and who among us won't admit to smugly smiling when possessing a plant so rare as to stump a visiting expert?
No, this Indian Celery commands our attention for the same reasons the Indians valued it. In early spring its tender, nutritious young greens (both leaves and flower stems) are a tasty treat. They are edible raw or cooked, until summertime toughens them as well as intensely heightens their already strong pungent flavor.
It should be unnecessary to mention that indeed our Indian Celery does taste quite like the original celery (Apium graveolens) --those watery, crunchy stalks of dilute flavor. The two plants are related, along with such cousins as lovage, fennel, angelica and sweet cicely.
The more than 70 species of Lomatium all grow in western North America. Some Indians depended on certain species as a staple crop, harvesting tons of "Cous" roots for storage. In particular, Sahaptin-speaking people of the Columbia River were intimately acquainted with Lomatiums. Spring greens were for salads, roots yielded bulk carbohydrates, and the seeds found uses as insect-repellents, seasoning, perfuming agents, medicine, and were collected in quantity and traded.
There are various Indian Celeries. We feature this one because it happens to be native to Seattle, and therefore has a particular claim to our attention. It is as useful as any Indian Celery, though not the prettiest.
It grows from sea-level to moderately high elevations, on both sides of the Cascade Mountains from southwest Canada into California and Utah. It is usually found in dry, sunny sites. The soil can be sterile sand or clay; apparently no barren, exposed place is inhospitable. The only wild colony known in Seattle is at Golden Gardens park, where a couple of hundred plants grow in absolutely pure sand at the westernmost vegetated portion of Meadow Point.
They are a gray or blue-green color, like many desert or seashore plants, and are rather plain-looking, combining a graceful elegance of foliage with a squat, gawky form.
From late April until July, various specimens are in bloom. Yellow, tiny flowers are densely borne in round clusters terminating in long, slender stems. The tallest attain just over 2.5 feet; many are less than a foot in height. The root is almost unbelievably deep. Flat seeds ripen in late summer. If you care to harvest the seeds, take a few from each of various plants, so both your supply and the ones left behind will represent a good genetic diversity.
Other names for Lomatium nudicaule include Indian Consumption Plant (used to combat colds and tuberculosis), Pestle Parsnip, Desert Parsley, Cous (one of several so-called), and (rather derogatorily) Hog Fennel.
Easily grown from seeds (I have 15 seedlings grown from Golden Gardens seeds collected last year), and also fragrant, tasty, and nutritious, it should appeal to people interested in drought-tolerant, sun-loving plants such as sage, rosemary, thyme, and chamomile. It is a great pleasure to wander through a garden smelling these fragrant herbs. Indian Celery will be a perfect addition.
Why don't some of us try raising it in regular garden soil, with occasional watering, just to see how the plant does? Likely it will grow faster, and may be larger, and not so excitingly flavored. It may prove a valuable perennial salad herb. Again, all parts, from root to seeds, are edible while tender and young, raw or cooked.
Seeds are available through Abundant Life Seed Foundation, PO Box 772, Port Townsend, WA 98368.
(Originally published in the July 1989 Seattle Tilth newsletter, along with an illustration by Annie Figliola. Since 1989 I have come to believe that Indian Celery requires perfect draining soil and almost full sun, so it is likely not able to grow --let alone thrive-- in ordinary vegetable gardens. If anyone knows the contrary I will love to hear about it.)
Back