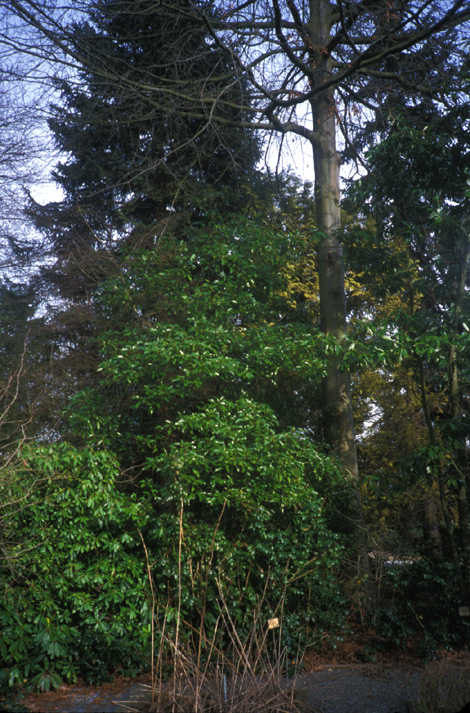 Life in the Dead of Winter
Cold, wet, dark days of January and February bring few visitors to the U.W. Medicinal Herb Garden. Gone is the summer profusion of flowers, scents, endless textures and busy insects. Gone is the autumn color and flash of the blossoms. The wooden borders and benches are slimy and moist, the soil sodden and heavy. Frost comes, coating all with a delicate touch of frozen silver. Snow muffles even the most prominent trees and landmarks.
But, take note: we are not residents of the Far North, chilly Midwest or New England. This is Seattle, where our normally mild winters are late in following fall, and early give way to spring. Even in our cold spells, we have green plants outside which beckon us to be brave and venture outside our stifling houses to touch nature and thereby be stimulated, inspired, and, yes, be warmed!
We might as well be optimists and look at the bright side, as to do so requires no more energy than to frown sourly and damn the rainy days. If the weather relents and sunshine or something close enough comes, heed the call and stop by the garden. The plants listed below are fragrant and almost all are green even in the worst of winter. They have scents ranging from refreshingly sweet to heady and intensely sharp. Some of the plants are zesty culinary herbs, others are medicinal. Wintergreen, fennel, and caraway thyme are like candy.
There's nobody who cannot grow at least one of these plants. One kind or another will work perfectly in any sort of garden you may have, including a houseplant collection. Visit and experience the warm and varied fragrances, learn about the growing requirements, and see what else the garden offers --a true wealth even in its slow season.
Section A
Wormwood (Artemisia Absinthium)
Lemon Balm (Melissa officinalis)
Lavender (Lavandula angustifolia)
Section B
French Thyme (Thymus vulgaris)
Caraway Thyme (Thymus Herba-barona)
Bay Laurel (Laurus nobilis)
Winter Savory (Satureja montana)
Costmary (Chrysanthemum Balsamita)
Sage (Salvia officinalis)
Anise Tree (Illicium parviflorum)
Section C
Roman Chamomile (Anthemis nobilis)
Garlic Chives (Allium tuberosum)
Fennel (Foeniculum vulgare)
Catnip (Teucrium Marum)
Peppermint (Mentha x piperita)
Leek (Allium Porrum)
Section D
Feverfew (Tanacetum Parthenium)
Calendula (Calendula officinalis)
Wintergreen (Gaultheria procumbens)
Section E
Corsican Rue (Ruta corsica)
Spearmint (Mentha spicata)
Calamint (Calamintha Nepeta)
Hyssop (Hyssopus officinalis)
Camphor Laurel (Cinnamomum Camphora) (SEE PHOTO ABOVE)
Section F
Rosemary (Rosmarinus officinalis)
Greek Oregano (Origanum vulgare)
Savory-scented Thyme (Thymus Marshallianus)
Section G
Pennyroyal (Mentha Pulegium)
Wild Ginger (Asarum caudatum)
Wild Garlic (Allium vineale)
(Originally published on page 7 of the January 1990 newsletter of the Friends of the Medicinal Herb Garden of the University of Washington, Seattle. Since 1990, several plants cited have been replaced with others, yet the garden is still well worth a winter visit.)
Back