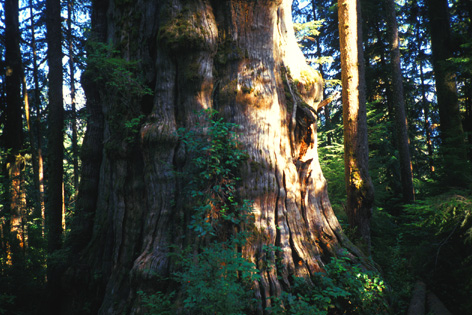 How long do trees live?
Old-growth forests are everyone's darling, prized either for logging splendid trees or for preservation of their intricate, unspoiled nature. Before Seattle was logged, it too was an old-growth forest. There were so many trees that loggers could afford to be selective, and could ignore hard-to-fell or imperfect trees. As a result, today we have trees here and there which are older than Seattle. In other words, trees born well before the 1850s. Our oldest are almost certainly cedars and firs. They tend to be at once abundant and intrinsically long-lived. Some other common trees such as alder and dogwood, willow and cottonwood, are short-lived, which --for a tree-- is to say they've got roughly the same lifespan of humans. In contrast, the world's oldest trees are likely around 5,000 years.
Below is a list of some Seattle native trees plus their maximum reported or estimated ages --as researched and accepted by myself-- plus my age estimates of Seattle's oldest specimens. Alas, there is no room here for qualifications and footnotes; all of this is essentially educated guessing. Input from readers is welcome.
How can we tell tree ages? Counting growth rings using fallen tree cross sections, or taking core borings with a special tool, plus years of observation and comparison of growth rates with sizes and habitats. It would be fascinating to locate Seattle's oldest tree. I'd give it a hearty hug. My guess is a cedar in Schmitz Park.
Frequently the oldest trees are not the largest, so it is not as simple as finding the biggest trunk. Cottonwoods grow gigantic in a hurry, then bust up, earning their nickname rottenwood. Yews grow exceedingly slow, remain small, but can become truly ancient.
So much for Seattle's native tree species. What's our oldest non-native, planted tree? I guess a nut or fruit tree, perhaps in the Duwamish area or on some old pioneer homesite elsewhere. Probably some date from the 1880s, if not the 1870s or even slightly before.

(originally published in The Seattle Weekly, July 1997)
Back