The Olmsteds and Seattle's Park System: A Brief Perspective.
Much attention has been given to the Olmsted Brothers lately. For example, a national convention of Olmsted enthusiasts was held in Seattle last fall, in conjunction with the official celebration of the city's park system centennial. For those who don't know much about either the Olmsteds or Seattle park history, this article may serve as a base.
The history of Seattle's parks can be delineated into four stages, each with its own distinctive traits. Many would claim that this is over-simplified:
1. Beginnings and pre-Olmsted years (1884-1904).
2. Olmsted years (1904 until the mid-Depression).
3. Depression and Works projects Administration years.
4. Post-Depression and modern years.
Beginnings
In the beginning Seattle's parks were nearly all privately owned, and were often tied in with real estate business. Wealthy realtors would build cable-car lines with attractive pleasure grounds (parks) at the end of the line. They did this in order to sell adjacent home-lots to visitors of the rapidly growing city. This was big business indeed. Such activity flourished especially in the area stretching from Madison Park to Leschi. A number of such parks, as well as other ones not at all associated with the pecuniary motives of realtors, then began to be either generously donated, or sold to the city. Kinnear Park was among the first, becoming city-owned in 1889 at a cost of one dollar.
Thus, even before the Olmsted work began a solid and diverse "system" of parks had been established, including:
Broadway Reservoir
Denny Park
Denny-Blaine Park
Howell Park
Kinnear Park
Leschi Park
Madison Park
Observatory Park
Pioneer Square
Ravenna Park
Rodgers Park
Salmon Bay Park
Viretta Park
Volunteer Park
Washington Park
Woodland Park
Some of these parks were still privately owned, but all were open to the public; some also had other names and have since been renamed. The Olmsteds did not single-handedly create our park system; they added to it and enhanced it.
In attempting to discover and accurately relate the early history of Seattle's parks we find that although extant records and documentation are not scarce, they are incomplete and scattered. Currently, the greater part of the historical and contemporary data relating to our parks is filed in the Municipal Library. Each park has its own file which is available for inspection upon request. This information was organized by the late Don Sherwood, dedicated and consummate parks historian.
A typical park file contains that park's history, maps, newspaper clippings, pictures, drawings, plans, inventories, letters, and photocopies of relevant passages from official Park Department documents. Some of the files are so bulging with information that hours are necessary for a complete perusal.
The annual reports issued by the Board of Park Commissioners, beginning in 1884, provide another source of early park knowledge. For example, the 1893 edition is heavily devoted to the first of our parks' nurseries --Volunteer Park, at that time called City Park. A complete inventory of the nursery stock is printed in the report, far too long for inclusion in this article. The quantities and dollar value of each kind of plant are supplied. The names used are often archaic nurserymen's terms, thus reference to a comprehensive botanical such as Rehder's, is the only way to be even approximately sure about each plant's true identity. Here is a list of the top ten trees, with their modern names; an asterisk indicates a native species:
Madrona, Arbutus Menziesii * 12,000 $240.00
European Larch, Larix decidua 4,950 $198.00
Bigleaf Maple, Acer macrophyllum * 3,670 $73.40
Digger Pine, Pinus Sabiniana 3,190 $63.80
Oregon Ash, Fraxinus latifolia * 2,224 $44.48
Spanish Chestnut, Castanea sativa 1,214 $97.12
Honey Locust, Gleditsia triacanthos 1,084 $54.20
Sycamore Maple, Acer Pseudoplatanus 1,017 $30.50
Red Alder, Alnus rubra * 1,100 $22.00
Littleleaf Linden, Tilia cordata 998 $49.90
These ten kinds of trees, although supplying close to 20,000 individual plants, amounted to less than one-third of the total tree population in the nursery. Well over two hundred kinds of trees were present. Nor were shrubs lacking --there were 25 kinds of spireas, 17 privets, 16 mock oranges, 14 lilacs, etc.
Why did the fledgling nursery boast such an enormous, impressive and unusually varied stock since at the time there were so few city-owned parks in which to use the plants? It was due largely to the indefatigable seed exchanges and boundless energy displayed by Edward O. Schwagerl, then the Park Department Superintendent, Landscape Architect and Engineer. He boldly instigated seed exchanges with such renowned institutions as the Arnold Arboretum in Massachusetts, Kew Gardens in England, the Smithsonian Institute and National Botanic Garden in Washington, D.C., the French Commission of Horticulture under M. L. de Vilmorin, and several park departments in the eastern United States. He offered to trade our native Northwest seeds for anything exotic. Due to his early efforts, our parks were planted with all manner of choice plants. Schwagerl also drew up a master plan for the park system that foreshadowed features which were adopted by the Olmsteds.
Olmsted Years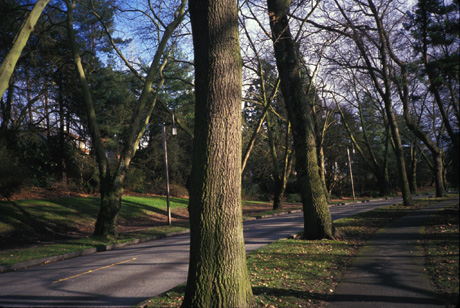 The Olmsted Brothers were, at the turn of the century, a nationally recognized and prestigious landscape architectural firm which operated out of Brookline, Massachusetts. Frederick Law Olmsted, the founder of the firm, had won acclaim for his design, with Calvert Vaux, of New York City's Central Park. Seattle hired the firm to develop a master plan proposal for the park system. John Charles Olmsted, Frederick Law Olmsted, Jr., and James Frederick Dawson were the three principal individuals involved during the course of the Seattle park work. The master plan was completed in 1903, which ensured that the various scattered parks would be related harmoniously to one another, rather than being isolated and unconnected units. Hence the farsighted boulevard/connection theme (pre-conceived by Schwagerl) was polished to a brilliant finesse by these artists. The firm was then asked, in 1904, to design the boulevard through Washington Park (PHOTO ABOVE)--the first of many jobs they did for Seattle over the years.
The basic principles the Olmsteds tended to follow included: 1.) Giving each park an individual treatment and identity suited particularly to its existing natural state and intended uses; 2.) harmonizing introduced plantings and structures with the existing native plant growth and topography, so as to create a beautiful, subtle blend; 3.) framing naturalistic curving paths and boulevards attuned to human traffic, and the use of wooden structures (ornate concrete work was used where necessary); and 4.) using virtually any plant they judged worthwhile, whether or not it was native, exotic, weedy or readily available.
Relatively few of their planting-lists are extant and/or easily accessible. Green Lake, a remarkably well-documented park in this respect, offers a revealing look at the kinds of plants proposed. The plants on the February 1912 list, and the actual plants currently growing at Green Lake are quite different. Changes over the years have been so all-encompassing that one could use the Green Lake planting list at the Seattle Center with about equal accuracy. It would be difficult indeed to overestimate the many changes that have taken place between what the Olmsteds originally planned and what we see today, especially with regard to plants. For even the immediate implementation of the Olmsted plans was fraught with unavoidable substitutions --what the Olmsteds proposed was often different than what actually got ordered, let alone what was received intact and properly installed.
Instead of moaning and groaning over the substitutions, we should focus on the lasting achievements of these Olmsted designs. The Olmsteds defined the essential grid and style of Seattle's pre-Depression park system, employing their ample talents to make truly beautiful landscapes with practical designs. Their distinctive touch is reflected here not only in our parks, but also in considerable non-municipal work that they engaged in during their repeated short trips to Seattle. Some of these private schools, gardens and estates are far better examples of untampered Olmsted design than any of our ever-evolving parks.
Depression and Work Projects Administration Years
The Great Depression of the thirties sadly put an end to the Olmsteds' work on Seattle's parks, with one exception. In March, 1935, the Seattle Garden Club raised $3,000 to hire the firm to do the Arboretum master plan. Thus Washington Park had come full circle with the Olmsteds, it being their first and last Seattle park site.
The atmosphere and character of a typical Seattle park, as we experience it today, is largely the fruit of the Depression --more specifically of the W.P.A. work done in the parks. It was like a face lift over the Olmsted work. There was scarcely any piece of park or public property that did not benefit from federal dollars. It was these years that brought the vast system of quaint brick restrooms, tennis courts, drinking fountains, retaining walls, viaducts, path-clearing and the construction of Aurora Avenue through Woodland Park. The landscaping of all of these projects also took place at this time.
Wholesale plantings of conifers and flowering shrubs were carried out, with the plants largely obtained from the Washington Park nursery. The majority of the non-native conifers seen in the parks today were planted on a scale of dozens and hundreds. Such kinds as Norway spruce (Picea Abies), Scots Pine (Pinus sylvestris), Veitch and Momi Firs (Abies Veitchii and Abies firma), Incense Cedar (Calocedrus decurrens), blue spruces, redwoods and Sawara Cypress (Chamaecyparis pisifera) were extensively used. Poplars and cherry trees were also widely planted. It was as if there were a mandate to plant trees --more realistically it was probably an effort to relieve an enormous nursery surplus and to employ workers desperate for jobs. It was a much greater undertaking than the massive municipal street-tree planting of the 1970s.
Post-Depression and Modern Years
So much has happened in the decades since the Depression that I will only list a selection of the changes that have occurred.
New parks have been developed at a rapid rate, generally with a style striking different from that of the Olmsted parks. There are five basic reasons for the differences: 1.) the type of land that is being converted into parks; 2.) differences in modern park usage; 3.) the prohibitive cost of park design, implementation, administration, supplies and labor; 4.) the need to protect against vandalism; and 5.) the effects of air pollution on plants. Everything is different.
The variety of plants being used has decreased, and those most used are the standards --London planes, sweetgums, red maples, ivy and St. John's-wort. An exception is Freeway Park, which has diversity and some eye-catching varieties.
Park maintenance has also changed. The relatively high cost of personnel has resulted in fewer employees and increased mechanization. Also the tasks of lawn-mowing, weeding and leaf-raking have been superseded by both the job of repairing the steadily crumbling Depression structures, and by the fact that aging, big trees require more care than young trees. As a partial relief to park maintenance, the Adopt-a-Park program has been established.
Passive recreation and casual athletics are no longer the only park activities. Now the Department of Parks and Recreation has expanded to cover all kinds of additional activities --in short, the recreation part has grown to an equal importance with the traditional park usages.
Considering all that has been surveyed, it is clear that the average park (including the Arboretum), might be expected to contain various elements of the different historical stages --each park being predominantly influenced by one stage or another. The pre-Olmsted years (stage one) is well represented by some excellent old trees at Kinnear and Leschi parks. The Olmsted influence (stage two) may be seen in relatively pure, albeit overgrown luxuriance, in Lakeview Park and in the sinuous boulevard below it. Extensive examples and rich remnants of the Depression (stage three) are easily seen throughout the city, but perhaps the Woodland Park/Aurora Avenue stretch of landscaping exists in the purest state. Modern times (stage four) has no single recognizable style, only diversity.
Seattle's parks are best viewed as continually evolving, much as do individual people or even cities as a whole --with certain changes for the better, others for the worse. Natural growth of the vigorous plants such as ivy, coincide with the gradual demise of the weaker ones such as our native orchids. Meanwhile, all our man-made structures remain static at best.
Thus, keeping in mind the idea of ever-changing parks, we cannot after all these active years call a given park today "an Olmsted park." We can only say "this was an Olmsted park," and mention the year its design was carried out.
No matter how we choose to categorize the parks, most of us certainly are pleased with the system, or at least with an individual favorite park, realizing what a treasure we possess in these free, public and natural places in the city.
(Originally published in the Winter 1984 University of Washington Arboretum Bulletin. Republished in revised form in the Spring 2003 Washington Park Arboretum Bulletin)
Back