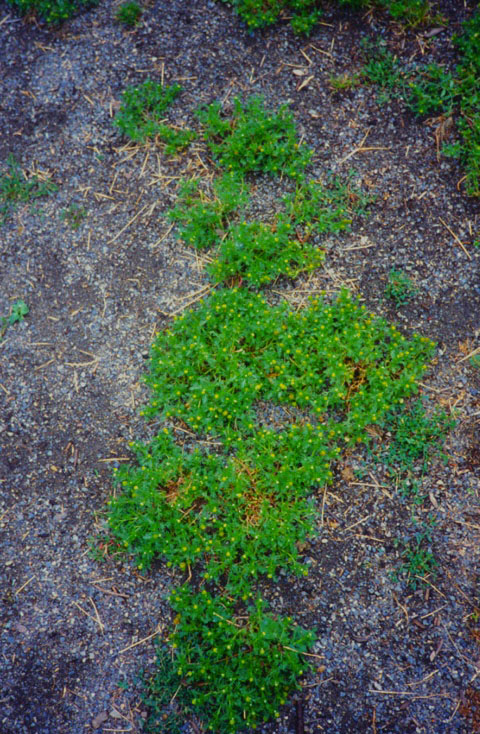 Pineapple weed; Matricaria discoideaDC.
= Matricaria matricarioides (Less.) Porter
Sunflower Family; COMPOSITÆ (ASTERACEÆ)
An attractive name predisposes us to favor. By virtue of its pleasing name alone, Pineapple weed is likely to shift better in our judgement than is Cudweed. Its name has an interest worth pursuing first. Originally, that is, hundreds of years ago, what people termed "pineapples" were a kind of what we nowadays call pine cones. These greenish-brown affairs were produced by the Italian Stone Pine (Pinus Pinea), also called the Pine of Rome. Next, a tropical South American plant (Ananas comosus) that produces the familiar juicy delicacy (resembling superficially the pine tree's cones) was called the Pineapple plant. Finally, because of visual or aromatic resemblance, other plants including this little weed, have come to be known as Pineapple Lily, Pineapple Mint, Pineapple Sage, etc.
Pineapple weed does smell vaguely like Pineapple fruit or ripe apples (an old Spanish name is Manzanilla). The weed is an annual herb, most conspicuous from June into November. Small, it is rarely seen more than 2 to 5 inches, although can become a foot high if all its glory is realized in an ideal site. Ferny foliage, reminding me of reduced carrot leaves, are its clothing. Each "twig" of leaves ends in a flowerhead about the size of a peppercorn or pencil eraser, sometimes larger. Dingy yellow-green flowers of no beauty but of warm flavor, turn into chaffy pale brown seeds. Overall, Pineapple weed is a miniature, bushy weed, dark and pliable.
It grows in compacted, dry, dusty soil, such as gravel parking-lots, sidewalk cracks, footpaths, trampled sandy beaches and other wastelands. For germination, it seems to need sunlight and fine soil. Immune to dust, resilient under our feet, it is one of the most amazingly tough weeds of all.
Of especial interest is its being native here in the Seattle area. After all, most of our weeds are from overseas or other places. But in Pineapple weed we have one that grew along the Pacific coast exclusively, but now is a transplanted weed elsewhere in North America, throughout Europe, and other regions too.
A Chamomile cousin, it sadly lacks the exhilarating zing of scent and flavor, as well as the pretty white petals. Nonetheless, it can be nibbled or brewed into a tea with enjoyment. The flowers are better for both purposes than are the leaves. Usually Pineapple weeds are so despicably dusty and runtish that none of us in our right minds would consider eating them. But clean, larger specimens are out there, sparingly.
In the world of weeds it is not an important pest. Mostly it is a cosmetic blemish, a mere eyesore. Ecologically it is benign or beneficial. Pulling it up is satisfyingly easy: the taproot comes forth almost invariably at a slight tug. Crush and smell it before you dismiss it; few weeds are so sweet.
Originally published as the Seattle Tilth newsletter Weed of the Month in September 1991, along with an illustration drawn by Alice Dubiel.
Back