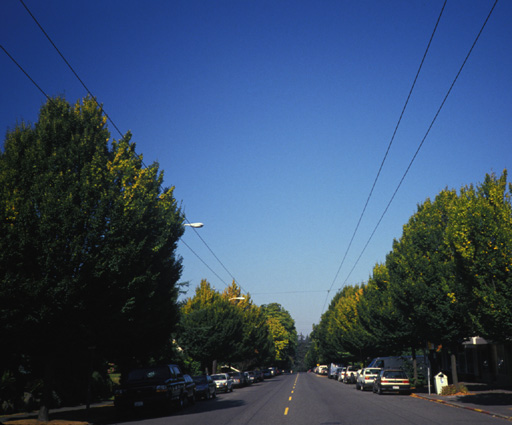 Special Capitol Hill Trees
No Seattle neighborhood is richer in trees than Capitol Hill. Trees of diverse kinds and ages beautify it, some of them far more interesting than you might guess. Although everyone tends to have his or her own special favorites, there are certain Capitol Hill trees of citywide importance, that can be divided into 7 major groups.
Old Trees.
Capitol Hill was essentially clearcut, so the only trees still alive today that began their life before Seattle was founded in the 1850s, are a few CEDARS ignored by loggers in what is now Interlaken Park (Capitol Hill's northeast edge). In older days, trees were more than plentiful, they were ubiquitous, at once both a nuisance and a vital commodity. Minor blemishes such as fire scars or partly hollow trunks therefore were often the salvation of trees -- loggers could afford to be picky.
Early residents of the raw, developing Capitol Hill eagerly planted trees to soften the barren expanse, to provide shade and fruit, to increase property values. So the oldest planted Capitol Hill trees are aged more than 100 years.
Big Trees.
Trees so big that they're the largest specimen of their kind, are easy to find on Capitol Hill. Disregarding species that are merely the biggest in Seattle, we have some of greater renown. Earth's tallest HAWTHORN of any species, anywhere, is one 67 feet tall (70 feet by 2002) in Volunteer Park. Doubtless it dates from the Olmsted era right after the turn of the century. The largest CHINESE SCHOLAR-TREE in the Pacific Northwest grows in the very northwest corner of Broadway Reservoir. A locust relative, it bears creamy-yellow blossoms in July or August. On 14th Avenue E., just north of Roy Street, is a unique planting of street-trees: in grid fashion are three sweetgums with one TUPELO. Tupelo, also called black gum or pepperidge, is the best shade tree for dazzling red fall color. More than 60 feet tall, this specimen is Washington's largest.
Rare Trees.
With so little "competition," rare trees are often of record size partly by default. Practically the only CHINESE SWEETGUM known in Seattle other than at the Arboretum, is a street-tree on the west side of 12th Avenue E. between Boston and Lynn Streets. Growing under wires, it periodically is decapitated. Not far away, on the east side of Federal Avenue E. just north of Newton Street, is Seattle's only big, old SHELLBARK HICKORY. Volunteer Park is full of rare trees, since 175 different kinds of trees grow there. A JAPANESE FLOWERING CHERRY named 'Mikuruma-gaeshi' is the only specimen known in Seattle; all the others have died. Its name means "the royal carriage returns" -- so Japan's emperor could take a second look at its lovely pink flowers.
Historic Trees.
Every tree has a story, but unfortunately our local historic trees are poorly documented. At Louisa Boren Viewpoint, near 15th Avenue E. & E. Garfield Street, are three ENGLISH OAKS, which grew on Denny Hill's Denny Park before the area was regraded. They were moved to their new home in 1930, when what used to be Denny Hill was washed into Elliott Bay.
Landmark Trees.
These are the trees that may not necessarily be large, old, historic or rare -- but are conspicuous, loved, and would be missed by many people. A good example is the towering TULIP TREE at 16th Avenue E. & E. Aloha Street, where the street, curb and sidewalk were realigned to accommodate the tree's immense size. Another is the HYBRID PLANE / SYCAMORE in the triangle at Belmont Avenue E. & Bellevue Place E., and the AMERICAN ELMS on Harvard Avenue E, north of E. Aloha Street.
Mass-Plantings of Trees.
Repetition is a design feature that can be very effective with trees, even when they are young. Capitol Hill's finest, most complimented street-trees may be the sheared-looking PYRAMIDAL HORNBEAMS on 19th Avenue E (PHOTO ABOVE), especially handsome towards Stevens School. The AMERICAN ELMS surrounding Holy Names Academy, the center row of HORSE CHESTNUTS in Volunteer Park, and the FLAME ASHES along Broadway, are more examples.
Ecological Trees.
All trees help make our environment healthier. But value to an exceptional degree is the dispensation of few. Such trees supply critical wildlife habitat, build and conserve soil, purify air, etc. In this sense, the "lungs" of Capitol Hill are the Saint Mark's Greenbelt, Interlaken and Boren Parks, Volunteer Park and Lake View Cemetery. (Incidentally, 66 trees in the cemetery were labeled in 1999.)
(The above article was written originally in April 1994, then redone in 2001. For more information about big trees, see the book Champion Trees of Washington State (1996) by Robert Van Pelt; it contains data on 45 Capitol Hill trees, measured between 1987 and 1995; at least six of which have since died.)
Following are a few reasons why Capitol Hill is Seattle's best neighborhood for trees.
1) Timing. Capitol Hill was not a pioneer neighborhood of the sort that was planted largely with only fruit and nut trees. Instead, it was planted right around the time Seattle had a boom, and financial largess. Its planting coincided with civic pride in planting of street-trees and the Olmsted Brothers Landscape Architecture firm's influence. Thus it has numerous old, ornamental trees. And it has benefited from decades of subsequent enrichment.
2) Money. The neighborhood has always been relatively well-off financially so could afford to plant and maintain trees.
3) Location. Capitol Hill is not as westward and thus dry as Queen Anne, Beacon and First Hills (or the former Denny Hill). It gets more rainfall. It is also close to the Washington Park Arboretum and the University of Washington, and thus had ready access to inspiration and information about trees.
4) Soil. The soil is, for a hill in Seattle, less sandy and more water-retentive than that of say, Phinney Ridge, Magnolia, West Seattle, etc. This, plus the slightly more rainfall, helps trees grow larger.
5) Room. The lot sizes and planting strips tend to be generous, enabling ample room for trees.
6) All Stars. Capitol Hill has a stellar collection of planted trees in Volunteer Park and Lake View Cemetery, plus a wonderful blend of planted and wild trees in Boren and Interlaken Parks.
Back