Parasol-leaf Tree, from the Philippines, is cultivated around the world as an ornamental because of its bold, large leaves. Its reddish flowers earned it the name Coral Tree --a name usually given to members of genus Erythrina. The way its leaves are affixed to their stem accounts for the name Nasturtium Tree. In Tagalog it is Takip-asin. A widely used name is Bingabing. In Hawaii, where it is weedy, it is called sometimes Pengua.
The genus Macaranga was established in 1806, inspired by a common name in Madagascar. It is related closely to Mallotus, less closely to Acalypha.
In the wild, it is a fast growing tall shrub or small tree to 40 feet, usually in full sun, in hot, humid conditions. It can survive in subtropical climates outdoors. Northerners can overwinter specimens indoors in greenhouses or conservatories. I will attempt it as a houseplant, having acquired one on May 7th (mail-order from Florida to Seattle), but think its immense leaves and need for much light and humidity will render it impractical in my house. This summer it shall stay outside.
Macaranga grandifolia was discovered by Marius Porte in the 1860s, who introduced it to the Western world, via France. It was in England by 1892, in Hawaii by the 1920s. It is among the most grown of all the 280 to 300 species in the genus.
Despite its name grandifolia, it is not the largest-leaved species in the genus. Macaranga Mappa has larger leaves, with distinctive tufted white hairs on the undersides. The two species are confused often; some authors state incorrectly that they are one species. So, when you are reading about one, you may be actually reading about the other!
The previous two species are also confused with the most widespread species in the genus: Macaranga Tanarius whose leaves are still smaller, typically 17 by 15 cm; and flowers greenish rather than red. It grows from India to China and Ryukyu, S through Thailand, and throughout Malesia to New South Wales, the Solomon Islands and Vanuatu. It can be a tree 20m tall, and the leaves can reach 32cm.
According to the expert on the genus, Tim C. Whitmore (1935 - 2002), Macaranga grandifolia is native to Luzon and Mindoro in the Philippines, and the leaves are typically 40 by 35 cm. Macaranga Mappa is native to Luzon, Samar and Mindanao in the Philippines --and beyond, with larger leaves (60 by 40 cm), with distinctive tufted white hairs on the undersides.
The drawing reproduced below is by M. Smith in Curtis's Botanical Magazine vol. 121 (1895).
In cultivation, Macaranga grandifolia is reported to have leaves as large as 100 cm --about 3 feet and 4 inches. I will photograph, and measure, my specimen at various times during summer, and update this article. [in late September, my largest leaf measures 46.5 by 42 cm]
I did not buy the plant merely to look at. Writing a book about edible houseplants, I shall test this species, because it has edible relatives. Both genera Mallotus and Acalypha have edible species. The young tender leaves of at least 3 Macaranga species have been reported eaten; the fruit of at least 14 Macaranga species are reported as eaten. I must wait a few months before I taste any part of the plant so the nursery's pesticide residues have time to break down. [In late September I tried eating a leaf. Both raw and boiled, a young leaf was chewy, bitter and unpleasant.]
Of Macaranga Tanarius, PROSEA (Plant Resources of South-East Asia) reports: "The addition of [its] leaves . . . stimulates the fermentation of sugar cane molasses, and consequently increases the alcoholic yield of the beverage prepared from it. Bark and leaves are widely utilized in the Philippines in the preparation of a fermented drink called basi made from sugar cane. In Sumatra, fruits are added to palm juice when it is boiled down, improving the quality of the sugar produced."
Back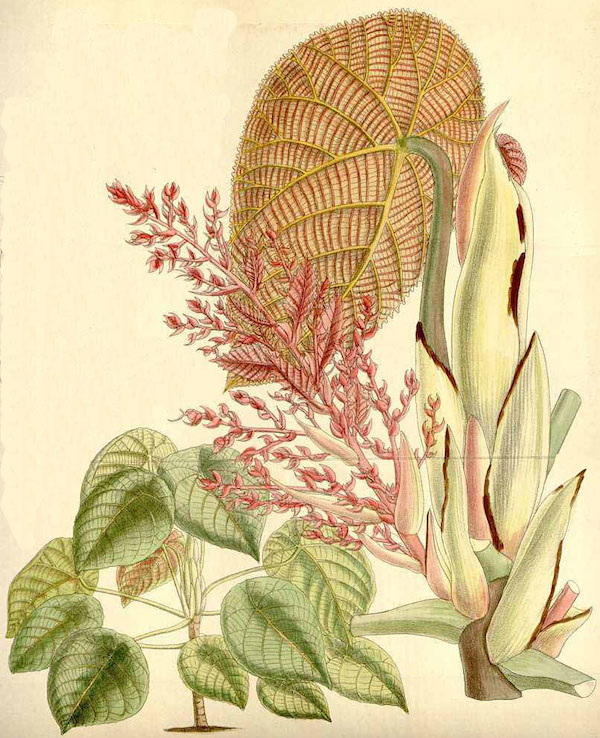 Macaranga grandifolia drawing by M. Smith in Curtis's Botanical Magazine 1895




Macaranga grandifolia in June; photo by ALJ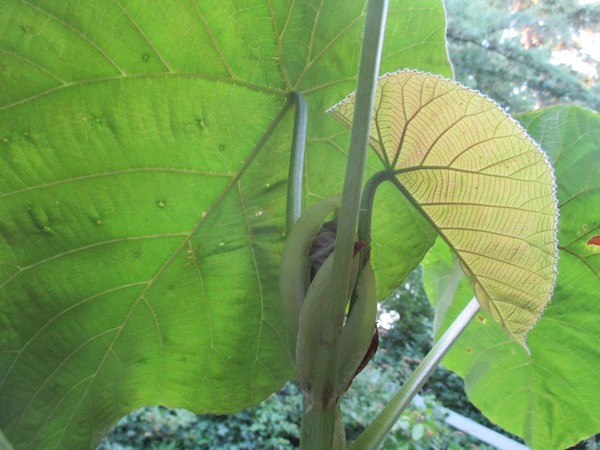 Macaranga grandifolia in June; photo by ALJ