For as long as I can remember, Forget Me Nots have bloomed in my garden. Their charming blue flowers are small but profuse and lovable. In Seattle, the garden Forget Me Not blooms from mid- or late March into June or July. It then turns gray with ugly mildew, and releases seeds. In this article I will limit my remarks to the six species of Forget Me Not that do or did grow wild in greater Seattle. On a global level there are perhaps nearly 100 species of the genus Myosotis.
The genus Myosotis is, for the most part, temperate, but some grow in tropical highlands. The name is derived from the Greek myos, of a mouse, and ous, ear. Hence it means Mouse Ear, in reference to the softly hairy, small leaves of certain European species. Another name is scorpion grass, because many species bear flower clusters that strongly coil like a scorpion tail.
As for the origin of the name Forget Me Not, there is uncertainty. It is clearly from continental Europe, and reportedly was applied first to Myosotis scorpioides, a perennial species along rivers, ponds, and wet ditches. Here are a few translations. German: Vergissmein Nicht, Dutch: Vergeet Mij Nietje, Danish: Forglemmigej, Italian: Non ti scordar di mé. A legend reports how an armored knight and his beloved were strolling along the bank of the River Danube, and the fair lady spied the sky-blue flowers of an unknown dainty riverside plant. She expressed her admiration of their beauty. The knight, desirous of pleasing, courteously went to pluck some for her. But he fell into the river, weighed down by his heavy armor. As he sank to his death he tossed the flowers to his lady and cried "Forget Me Not." It is to be hoped that he had prefaced these words with the lady's name, and had exclaimed "I love you!"
Other stories exist, but are even less plausible. Gradually, the name Forget Me Not has been applied to other plants, usually featuring small blue flowers. Besides Myostois, other genera in the Borage family that have species for which the name has been used include Anchusa, Cynoglossum, Eritrichium, and Myosotidium. Also the genus Veronica, in the Figwort family.
Nowadays the common Forget Me Not symbolizes true love, and is prized as a garden flower as well as a wildflower. Forget Me Not is the State Flower of Alaska. It is a good thing we love them, because the plants are notably lacking in economic value other than as garden ornamentals. That is, there is virtually zero medicinal value, fragrance, dye value, food value, and so on. But who can put a price on love? You can sprinkle the flowers in mixed salads as an almost flavorless, but winsome, garnish. Sometimes certain species can be weedy, but they are not so serious pests as to be listed in most weed books.
Following are the six Seattle-area species of Myosotis, their names and status. This information is largely taken from my book Wild Plants of Greater Seattle. The book has detailed black and white drawings.
Myosotis discolor Pers. Changing Forget Me Not. Yellow and Blue Forget Me Not.
An annual weed naturalized from Europe. Grows in sunny sites on bare soil, is erect and slender, with tiny inconspicuous flowers, from April until late June, that change from yellow to blue. An utterly overlooked little plant.
Myosotis laxa Lehm. Small Water Forget Me Not. Smallflower Forget Me Not. Tufted Forget Me Not.
An annual, biennial or short-lived perennial native around the Northern Hemisphere, in moist places; very rare in the Seattle area: noted by me only at Northcreek Park / Bailey Farms Wetlands (south of Mill Creek) and at Scriber Lake (in Lynnwood). Its inconspicuous flowers appear from (late May) June into early September.
Myosotis scorpioides L. Water Forget Me Not. Marsh Forget Me Not. True Forget Me Not.
A bright green, strong perennial wetland wildflower naturalized from Europe. Very common in cattail marshes and watery sites. Lovely flowers from mid-May until November.
Myosotis stricta Link ex Roem. & Schult. (= M. micrantha auct., non Pall. ex Lehm.) Dwarf Forget Me Not.
An annual weed naturalized from South Europe. Somewhat like M. discolor but rarer in the Seattle area. More common east of the Cascades.
Myosotis sylvatica Ehrenb. ex Hoffm. Garden Forget Me Not. Wood or Woodland Forget Me Not.
A softly hairy annual, biennial or short-lived perennial Eurasian, widely cultivated and naturalized here. Our common species. Pictured below. Many cultivated varieties exist. Grows in shade or sun, with showy flowers, from late March onward. The flowers are pink or lavender in the bud stage, and open to blue with yellow centers. They are about a third of an inch wide. Each flower makes 4 shiny black seeds.
Myosotis verna Nutt. White Forget Me Not. Spring or Early Forget Me Not.
An annual wildflower native in Seattle but extirpated, last collected in 1889. It is reported to grow in low ground that is very wet in winter and dry in summer. The flowers are minute, white, and in the Seattle area would appear in May.
Back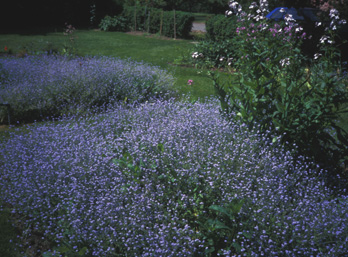 Forget Me Not slide scan by ALJ