Dwelling on the forest floor in moist shady woodlands, Youth-on-Age is an evergreen perennial plant native from S Alaska into C Oregon. People grow it in hanging baskets as a houseplant. Its generic name commemorates Dr. William Fraser Tolmie (1812 - 1886), surgeon with the Hudson's Bay Company. Its specific name honors Scottish surgeon, botanist and naturalist Archibald Menies (1754 - 1842). Menzies was the first scientist to collect a specimen of the plant. It was introduced to English cultivation in 1812.
I already wrote a little about this plant before (plant of the month April 2007), but this month, give it full attention.
Other than its ornamental role, it has been reported that its hairy leaves can create minor skin irritations for sensitive persons. Erna Gunther's 1945 book Ethnobotany of Western Washington notes that "The Makah eat the sprouts raw in early spring." Tasting them, I found them unpleasantly astringent raw. But light cooking eliminates this objectionable characteristic, and the young tender greens can be used as one would spinach.
As my picture below shows, the slender flowers are relatively dull: usually dark purple or brownish, veined green, and about half an inch long. Pollinated by fungus gnats, they bloom from early April into June, on stems 12 to 36 inches high. Their appearance led to the name Bristle-flower, but the leaves account for the more familiar names of Thousand Mothers, Cloning Plant and Piggy-back Plant (Pick-a-back, Pig-a-back). Many of the leaves bear miniature plantlets at the junction of leaf stem and blade, which take root to reproduce the species. Hence, it reproduces both from seeds and vegetatively. Of all Seattle's native wildflowers, this is the only species used as a houseplant. It is also employed as a shade groundcover in gardens.
The common cultivar 'Taff's Gold' (= 'Gold Splash', 'Maculata', or 'Variegata') features mottled, pale leaves. It was selected for the garden by "the King of Variegation," Stephen Taffler (1922 - 2005) an English specialist on variegated garden plants. The story is told by Barry Glick of Sunshine Farm and Gardens, Renick, WV: "It was discovered [sometime before 1981] by Stephen Taffler, from the window of a speeding New York City taxicab as he rushed to JFK airport, no doubt behind schedule as usual, to catch a flight back home to England. As the vehicle rounded a corner Taff commanded the driver to STOP; the driver probably thought that chain-smoking Taff was having a heart attack, and stopped immediately leaving a half inch of rubber on the ground. What Taff had spotted was some golden variegation on a plant sitting on the shelf of a flower plant street vendor a hundred yards away. What an eye for detecting even the slightest variegation this man has. Taff bought the plant and smuggled it back to the UK in his coat pocket."
A newer cultivar, 'Cool Gold' (Plant Patent no. 15948) was released by Terra Nova Nurseries of Canby, Oregon in 2004, featuring uniform golden yellow-green leaves.
In 2007, the southern population (San Francisco Bay Area to C Oregon) of Youth-on-Age was published under a new specific name, as follows:
Tolmiea diploMenziesii Judd, Soltis & P. S. Soltis 2007
Plants usually smaller in stature than T. Menziesii.
Basal rosettes usually not well developed unlike T. Menziesii.
Stem leaves distinctly longer than wide unlike T. Menziesii.
Plantlets on leaves sporadically produced unlike T. Menziesii.
2n = 14 (diploid) unlike T. Menziesii which is 2n = 28 (autotetraploid).
Back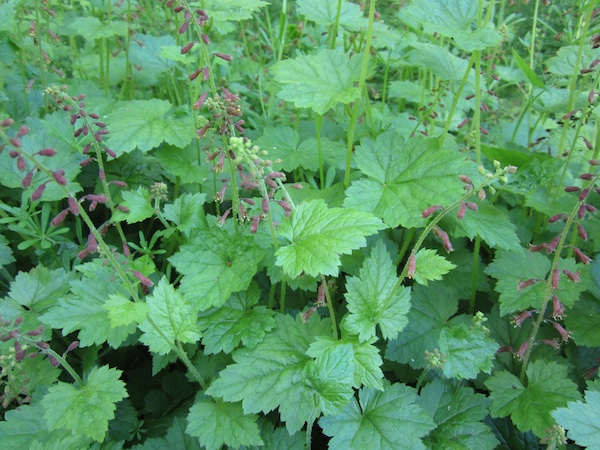 Tolmiea Menziesii flowers; photo by ALJ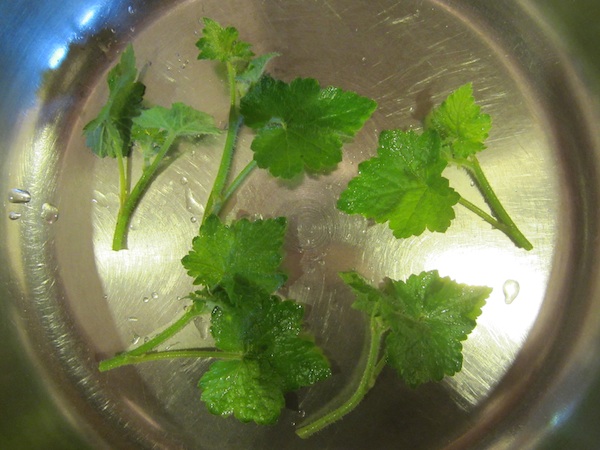 Tolmiea Menziesii young washed shoots ready to cook; photo by ALJ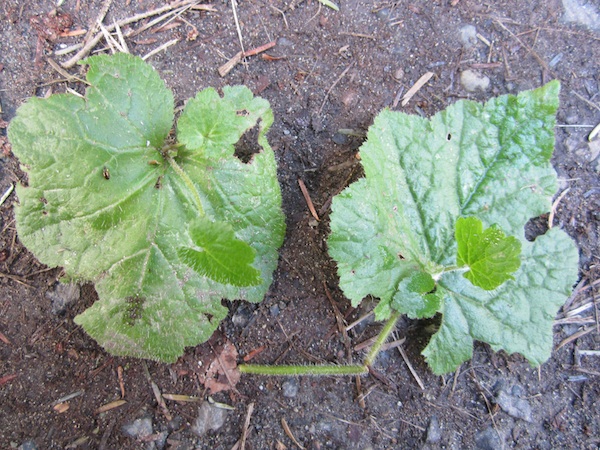 Tolmiea Menziesii leaves with plantlets; photo by ALJ