In 2010, I bought from a Lowe's store a houseplant labeled Ardisia humilis. In 2014, it first made pretty pink flowers and shiny black berries; now it is 2.5 feet high. It was misidentified; actually it is Ardisia elliptica, native in India, Sri Lanka, Indonesia, Japan (Ryukyu Islands), Taiwan, Malaysia, Philippines, and Vietnam. It is cultivated and naturalized throughout the tropics. English names referring to its fruit are Shoebutton, Inkberry and Duck's Eyes.
There are anywhere from 250 to 550 species of Ardisia according to what authority is consulted. They are widespread but most are from the tropical and warm-temperate zones. They vary from nearly herbaceous to small trees. Most are evergreen; most thrive in shade.
Of all Ardisia species, I have firsthand experience with only this one houseplant. More common in cultivation are the red-berried Ardisia crenata Sims and Ardisia crispa (Th.) DC.
Over 55 Ardisia species are reported as eaten by people. Mostly the tender young leaves, and the mature berries, are consumed; seldom the flowers as well. In some cases the role is a mere snack; sometimes a wholesome food; other times a spice or flavoring.
Several species grown as ornamentals mainly, are also edible. The visual attraction is usually the long-lasting attractive berries, less commonly the foliage --especially if variegated. Frequently, species are identified incorrectly. The species that has the most references to edibility is the black-berried Ardisia solanacea (Poir.) Roxb. native in India, Sri Lanka, Nepal, China, and Singapore. It has been miscalled Ardisia humilis. English names of it are Shoebutton, Jetberry, and China Shrub.
Ardisia elliptica, is invasive, but since I grow it indoors, eat its berries, and it would be killed by Seattle's winter freezes, no problem here.
The tender young leaves are pinkish, and agreeably acid eaten raw. The ripe berries are not notably sweet or special, but are healthy and antioxidant. The mature leaves can measure over 7 by 2 inches, the berries less than half an inch wide. An isolated plant can set fruit, and it lasts long on the plant. My plant would be larger if I put it into a larger pot, fertilized it and kept it warmer; it is in a cool room.
If you purchase an Ardisia, do not eat it for at least 3 months, to allow pesticide residues a chance to break down. The photos below show the progression from flower buds to ripe berries.
Back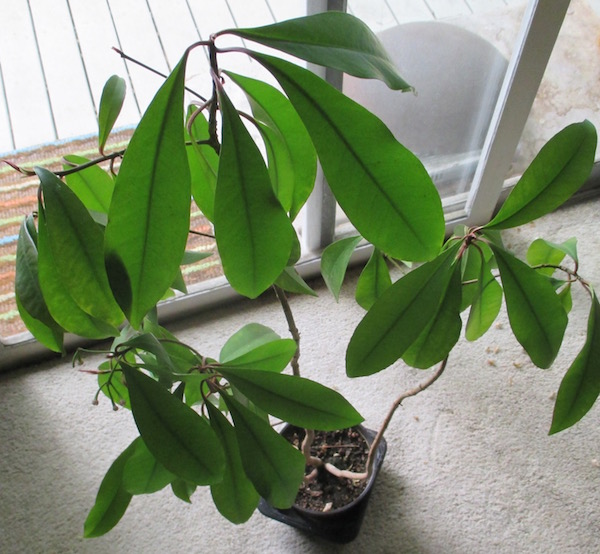 Ardisia elliptica houseplant; photo by ALJ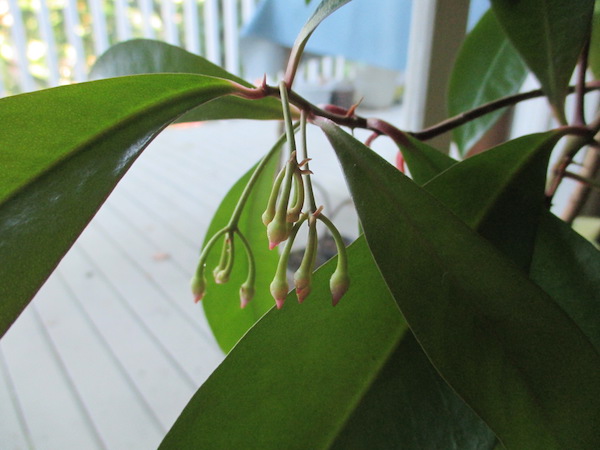 Ardisia elliptica flower buds; photo by ALJ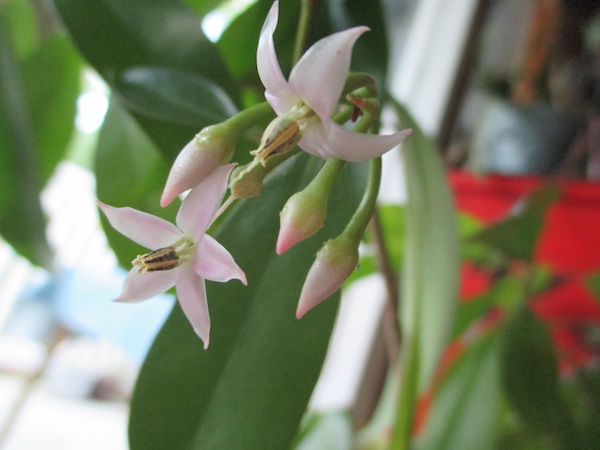 Ardisia elliptica flowers; photo by ALJ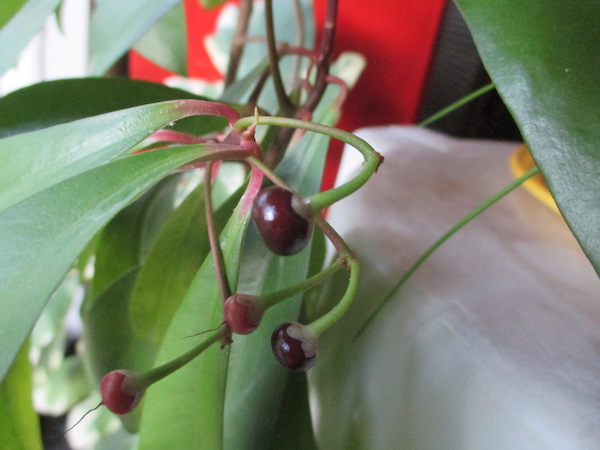 Ardisia elliptica unripe berries; photo by ALJ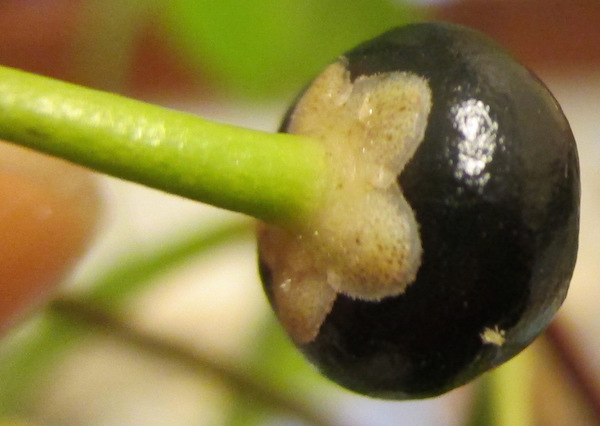 Ardisia elliptica ripe berry; photo by ALJ