Urbanite® ash is a large ornamental shade tree. Here is its story. In 1966 an ash tree was raised from seeds collected in Danville, Illinois. On January 17 1986 Willet N. Wandell, of Discov-Tree Research and Development, filed a patent application for the young tree; on July 5 1988 Wandell received plant patent number 6215. The tree has been sold commonly. I write this article for two reasons. First, to promote an apparently worthy shade tree that is too scarce in Seattle. Second, to note that patent and nursery catalog literature notwithtanding, Urbanite® ash is a clone of Fraxinus americana (white ash), not Fraxinus pennsylvanica (green or red ash).
In the realm of ornamental trees, other cases exist where clones of one species have been patented and sold under the wrong specific name. For example, the Cimmaron® ash PP 8077 (1992) is also Fraxinus americana, not Fraxinus pennsylvanica. Its official cultivar name is 'Cimmzam'. And the Red Cascade™ mountain ash patented in 1977 (PP 4157) as Sorbus tianschanica is actually a Sorbus americana. Its official cultivar name is 'Dwarfcrown'.
My 1996 book North American Landscape Trees accounts for 19 cultivars of white ash, and 33 of green/red ash. When I wrote that book I knew the Cimmaron® ash was being sold wrongly, but did not know the same thing was occurring with Urbanite® ash. But this year, I studied some Urbanite® ashes planted by Re-Tree Ballard in October 1992 in Seattle, and now have no doubt as to their identity. Six are street-trees on NW 80th Street, near 27th Avenue NW.
In Seattle at least, all green ashes turn pure yellow and defoliate relatively early in autumn. White ashes vary in fall color and leaf retention, but are always in the gold pink purple range, and often hold their foliage longer. At least this year, Urbanite® ash is by far the last of all to turn color and defoliate. Its twigs are stout, its leaves large, and pale underneath. It is a robust, strong and handsome clone. It is recommended as a street tree by the Seattle Transportation City Arborist's office.
In general, to the experienced eye, white ash and green ashes can be told apart with no problem. But certain individual trees do puzzle us, because both species are variable in such details as presence or absence of hairs, and leaf toothing. The white ash is a larger, more stately tree, but it does not have green/red ash's adaptability to difficult urban planting conditions. Also ash yellows disease hurts white ash far more.
I am not the first person to question the identity of Urbanite® ash. It was also suggested in the 1995 book Landscaping with Native Trees by Guy Sternberg and Jim Wilson, and Michael Dirr's 1998 Manual of Woody Landscape Plants. And an Australian website (click here) notes how Urbanite® is much like a white ash clone.
Wandell's exact wording from his official patent application is as follows:
"A new and unique variety of green ash or Fraxinus pennsylvanica lanceolata variety of pennsylvanica named Urbanite substantially described and illustrated herein characterized in that it differs from other varieties of the same species by the unique combination of shorter internodes, usually less than four inches long on first year stems, by the tighter, pyramidal symmetrical crown that maintains its shape, by the consistent color of the leaflets that are lustrous dark green above and silvery below, by the thicker bark on the trunk that makes young plants less susceptible to sun scalding, and by its apparent disease and insect resistance."
Another Wandell clone sold as green/red ash, and worth studying, because it may also be a white ash, is Skyward™ ('Wandell'). I know of no specimens in Seattle to examine.
Back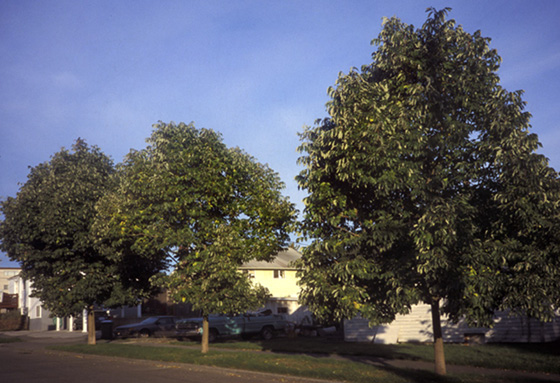 Urbanite Ashes scan by ALJ