This plant, over the years, has puzzled various people who have asked me to identify it for them. Hailing originally from hillsides and wastelands in Peru, it pops up all over earth, as an annual weed. But it is lovely enough to be prized ornamentally, and is also edible. Other English names include Broadleaf Nightshade, Peruvian Groundcherry, and Fly-poison Plant.
Genus Nicandra has only this one species. Close cousin genera are Juanulloa and Solandra. The name physalodes alludes to the plant appearing superficially like some species of genus Physalis.
Some of its common names refer to its ability to deter flies. Golden Harvest Organics reports that the plant: "Traps whiteflies on its leaves making it a perfect choice to control and monitor the little devils in the greenhouse or home." It is not a houseplant generally but can be grown in a container indoors; average house temperatures and humidity suit it. However, outside as a summer annual it is easiest to grow.
The leaves measure up to 9 inches long and 7.5 inches wide, normally, but can reach 12 inches on large vigorous plants. The flowers, then the berry, are in conspicuous bracts. The 1-inch wide flowers are blue or violet, with attractive "eyes" in the center. They are open in the afternoon in summer and autumn. The berry is packed with tiny, slimy seeds; hid loosely by 5 upswept papery bracts, first pale green, finally wan brown. The berry is moist when young but eventually is dry.
In north Argentina, people at least used to employ the plant to make a substance like baking soda; an alkaline (pH 10 - 11) vegetable ash called yista.
In both the New World and Old World, various cultures boil the leaves as a vegetable or eat the fruit. Even the roots are reported as eaten, called papa silvestre in Michoacán [Aprovechamiento de Recursos Vegetales en Una Localidad de La Reserva de La Biosfera Mariposa Monarca, Michoacán, México by Olga Lydia Loredo-Medina et al. in Etnobiología 2: 32 - 60 (2002)]. I have not yet tasted the leaves.
A study in India showed that the fruits contain more protein, fiber, and fat, than tomatoes or ground cherries (Physalis). [Nicandra physalodes (L.) Gaertn. a less known wild edible fruit by Prachi P. Kshirsagar & Prabha Y. Bhogaonkar in International Journal of Current Pharmaceutical Research 7(2): 60 - 63 (2015)]
Back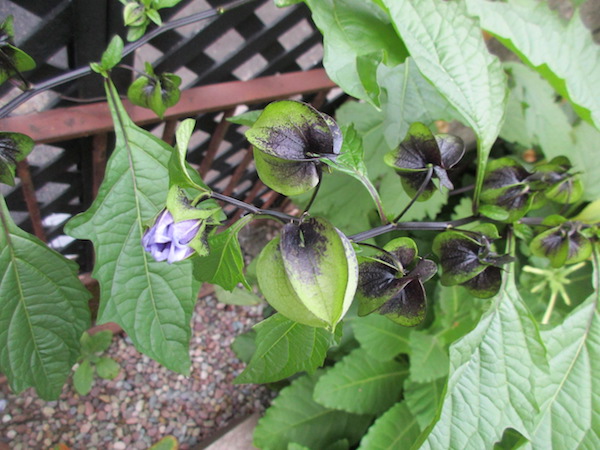 Nicandra physalodes ; photo by ALJ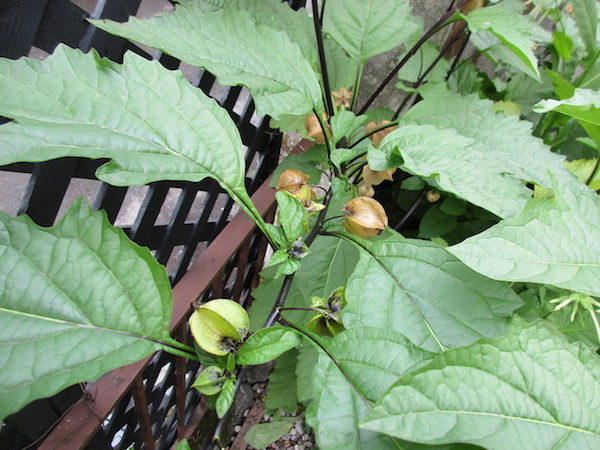 Nicandra physalodes ; photo by ALJ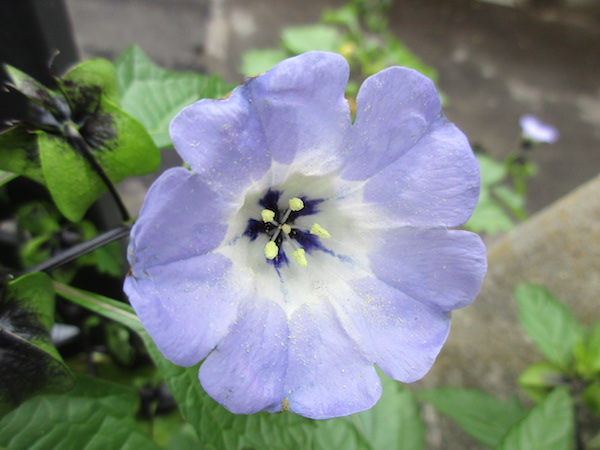 Nicandra physalodes ; flower close-up ; photo by ALJ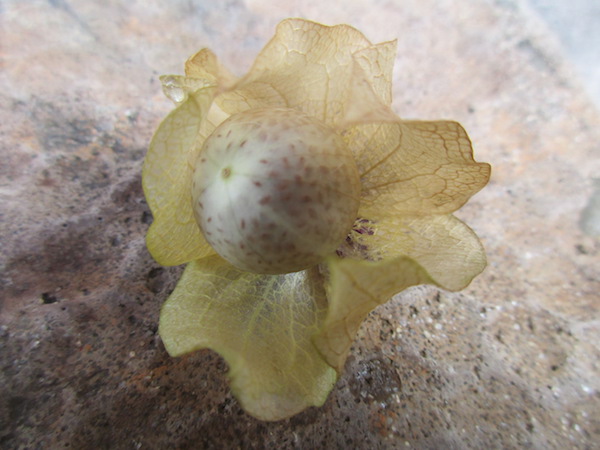 Nicandra physalodes ; unripe berry close-up ; photo by ALJ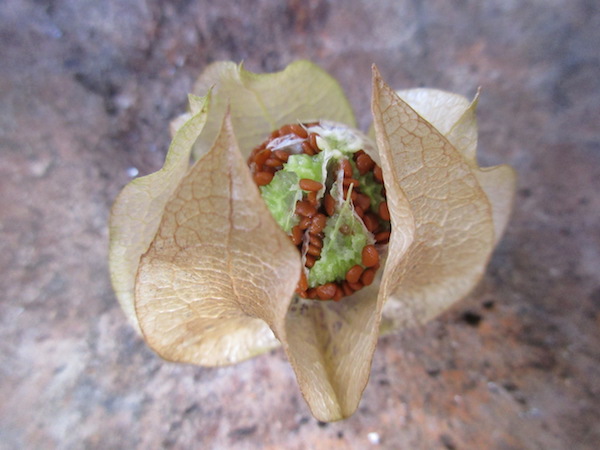 Nicandra physalodes ; berry opened to reveal seeds ; photo by ALJ