Plant of the Month: October 2004
Hopbush
Dodonæa viscosa Jacq. 1760
= Caryophyllaster litoreus Rump. 1743 nom. inval.


= Dodonæa angustifolia L. fil. 1782


= Ptelea viscosa L. 1753


(SAPINDACEÆ); Soapberry Family
Hopbush is one of earth's most widely distributed woody plants. It grows from sea level to 11,800 feet (3600 meters) in the Andes. It occurs in the Old World, the New World, the northern and southern hemispheres, in tropical, subtropical and nearly temperate climates. To research it I consulted books about plants native in Hawaii, Arizona, Florida, Mexico, Peru, South Africa, India, Australia, Malaysia, New Zealand, Taiwan, Okinawa and the southern Ryukyu Islands. Hopbush can be a knee-high bush or a tree taller than 60 feet (20 meters). Its leaves can be lettuce green to dark purple.
For years I regarded Hopbush as an elegant willow-like broadleaf-evergreen foliage shrub or small tree cultivated in California, where it has been grown since the 1880s if not earlier. I assumed it was too frost-sensitive to survive severe winters in Seattle. Well, since Seattle area nurseries have sold specimens, and at least some survived through last winter here (some at the U.W. campus are re-seeding as of March 2007.), therefore I decided to learn more about Hopbush. This article is my result, based on examining over 30 books, several scholarly journal articles, some personal inquiries of experts, and a website search.
The plant's generic name Dodonæa (pronounced dough dawn ee uh), was published in 1754 by Philip Miller. It commemorates Rembert Dodoens, a Dutch royal physician and scholar (1518 - 1585) whose Latinized name was Rembertus Dodonæus. The genus Dodonæa consists of 68 species, 59 of which are found only in Australia. It is a member of the soapberry family (SAPINDACEAE), a family that includes many economically valuable trees and shrubs. The first Dodonæa species named, D. viscosa, is by far the most widespread and important. The epithet viscosa refers to its sticky young twigs and leaves.
I follow the lead of several contemporary botanists who include under this species Dodonæa angustifolia L. fil., despite the fact that an expert, Pieter W. Leenhouts, maintains that the latter deserves to be regarded as a separate species. To summarize the practical differences cited by Leenhouts, D. viscosa is smaller, its flowers are bisexual, it grows at lower elevations and is less cold-hardy; D. angustifolia can grow larger, its flowers are usually male or female on separate individuals, it can grow more inland and at higher elevations and can tolerate more cold.
Reviewing the minimum temperature threshold reported in varied accounts reveals a wide range: 37 to 10 degrees Fahrenheit. It no doubt depends on the duration of the freeze; the location of the plant; its age, size and vigor; and its genetic ability to withstand cold. By all accounts Hopbush is tough, grows rapidly, tolerates wind, salt spray, shearing, aridity, and varied soils. It is best in well-drained soil; too much alkali hurts it; too much water can induce root rot; it does best in full sun or limited shade.
People cultivate Hopbush mostly in its purpleleaf race. The norm of the species is fresh green. But in the 1890s in New Zealand a purpleleaf tree was discovered, on the bank of the Wairau River in Marlborough (the north end of New Zealand's South Island). By the 1930s if not earlier this purpleleaf marvel was being sold by nurseries in its native land. In the early 1950s it was introduced to California and has been grown widely there since, and also planted elsewhere. The purpleleaf plants produce purpleleaf seedlings unless they are pollinated by greenleaf "fathers." So one sees a whole spectrum of color from pale green to purple. An especially dark clone in California was named 'Saratoga,' but I do not know that it is grown commonly. The purplish color is always darkest in winter, and in sun; shade makes it greenish.
A New Zealand cultivar called Moonbeam has not, to my knowledge, been cultivated in the northern hemisphere. Its leaves are "green and grey-green with an irregularly creamy white margin." (Lawrence James Metcalf, The Cultivation of New Zealand Trees and Shrubs, 1972)
People value Hopbush as a landscape plant whether it is purple or green, because it is a tough, useful shrub or small tree supplying a background screen or hedge. It has upswept form, gracefully narrow leaves, is not messy, and can be trained by pruning into anything from a low sheared hedge to a small tree. Though devoid of floral beauty, its seedpods (when produced freely) are attractive. Sometimes the pods are beige, sometimes red; they vary much in color and can be pink, brown or purple, too. Each husk-like seedpod will contain usually 2 to 4 hard dark seeds, but at least one. The flowers are wind-pollinated, and some Hopbush specimens bear only male or female flowers. So if you have only an isolated plant you may miss the seedpods. In which case your plant will focus its energy on growth rather than reproduction.
In addition to seed, Hopbush can be propagated via cuttings, usually taken of half-ripe twigs in July or August. The young plants are very frost sensitive. But large plants do not transplant well. Thus, if you have a young small Hopbush, shelter it in winter until it becomes established thoroughly.
In prior ages Hopbush was not cultivated for ornament. Instead the wood from wild plants was gathered and used. It is remarkably dark, very dense, heavy, close grained, extremely tough and durable. The Maori name Ake Ake means for ever and ever, in reference to the wood quality. The Maori used the wood to make their warclubs.
In Hawaii it is called A'ali'i or A'ali'i kumakua, and lei-makers prize its colorful seedpods. Names used in Mexico include Jarilla, Alamillo, Tarachiqui and Chapuliztle. A Malay name is Seringan. In Jamaica it has been called Switch Sorrel. In Florida a name is Varnishleaf.
In South Africa it has been called Sand Olive since the 1700s if not earlier. A curious fact is it is among the favorite food plants of the edible stinkbug (Encosternum delegoruei). All over the world various medicinal properties have been ascribed to Hopbush. For example, an infusion of the root was used in South Africa to cure colds. Leaves have been chewed for toothache. However, Hopbush is not usually considered potent in a major way; mainstream Western medicine ignores it. That does not indicate Hopbush has no value, however.
The names Hopbush, Hopseed bush or Native Hops were all given it because early British colonists in India or Australia --or both places-- used its seedpods for beer flavoring. When immature the seedpods can be viscid and may be bitter; but they mature to a flavorless dry papery texture; they remind me of dry ripe seeds from elm trees. Though Stephen Facciola in his 1998 book Coruncopia II writes that Hopbush seeds are edible, the one I chewed proved bitter and astringent.
All in all, Hopbush is a plant that I desire to get better acquainted with. The specimen that I bought and planted in June in a Seattle garden will be watched with fond interest (The winter of 2006-07 killed it.). If any readers have experience growing Hopbush successfully in cold regions I shall be pleased to hear your reports.
Back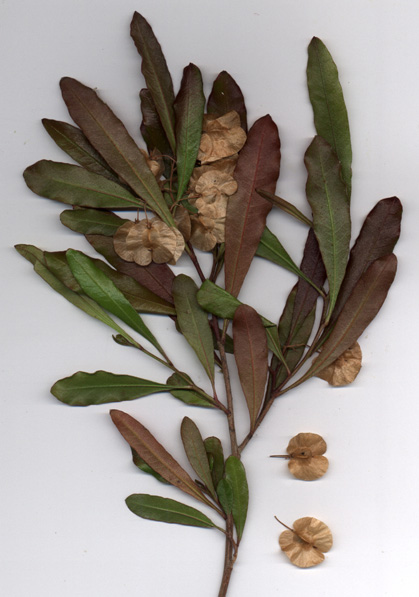 Purple Hopbush scan by ALJ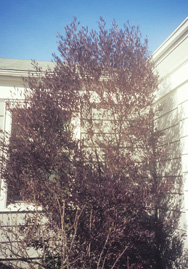 Purple Hopbush photo by ALJ