From southeast France and northwest Italy, in the Alps, grows a species of apricot tree that has been called in English the Briançon Apricot or Alpine Plum. It is exceedingly little known in North America, and I find it curious. The fruit resembles a golden cherry tomato, tastes like a plum, and botanists class it as a fuzzless little apricot.
By way of background, the first or original apricot tree is from North China, Manchuria and Korea, and was named Prunus Armeniaca by Linnaeus in 1753. Over 2,000 years ago it had been introduced to ancient Rome by way of Armenia, hence an old Latin name had been Malum or Prunum Armeniacum. It is a highly variable species, consisting of several subspecies (Ansu, holosericea).
Some botanists prefer to classify the various apricot species as members of the genus Armeniaca rather than as a section of the genus Prunus.
In addition to the common apricot, there are four other apricot species:
Prunus brigantina Villars
Prunus mandshurica (Maxim.) Koehne from East Manchuria and North Korea; the Manchurian Apricot
Prunus Mume (Sieb.) S. & Z. from China and Korea (though called the Japanese Apricot)
Prunus sibirica L. from East Siberia, Manchuria and Korea; the Siberian Apricot
Also hybrid apricots exist. There is Prunus x dasycarpa Ehrh., the Purple or Black Apricot, from SW and central Asia; often listed as a species but actually just a hybrid between the original apricot and the cherry plum (Prunus cerasifera). Its modern offspring are sold as Pluots (PLUm-ApricOTS) or Plumcots. In the 1890s in France a cross originated between Japanese apricot (Prunus Mume) and cherry plum (Prunus cerasifera), called Prunus x blireiana André.
This month's featured species was named Prunus brigantina by the French botanist Dominique Villars in 1779, because it grows in the Briançon region of SE France. It was cultivated and valued even before it was named officially. From its seeds an oil is obtained, that is sweet and inflammable, and can be used as one might employ olice oil or almond oil. It is called huile de marmotte / huile des marmottes (marmot oil), or huile de abrignon.
Briançon Apricot was introduced to North America by 1896, if not earlier, but has remained largely unknown. I have not discovered evidence that it has ever been offered commercially. It is in few botanical gardens and arboreta. I would not be writing about it now except that the Seattle arboretum obtained seeds from France in 1962, raised three and planted them in 1975. By familiarizing myself with these three specimens, I offer firsthand observations.
Compared to the original or common apricot tree, the Briançon apricot is smaller, more elegant and refined. In this respect it is more like the Japanese apricot Prunus Mume. It differs from both of those species in that its buds are sharply pointed and relatively slender, and its golden-yellow fruit is fuzzless and relatively tiny (one inch or less); it has a freestone rather than a clingstone. In April its slender green twigs are beset with crowded tufts of 2 - 4 (5) pinkish or white flowers, about three-forths of an inch wide. The leaves, 1 to 3 or rarely 4 inches long, are very sharply toothed, and lightly hairy. The Seattle specimens, as can be seen in our scan, show shothole fungus (Coryneum Beyerinckii), that looks worse than it is. At least the trees do not suffer from bacterial canker (Pseudomonas) and brown rot (Monilinia) --unlike Seattle specimens of both Prunus Armeniaca and Prunus Mume.
The three specimens in Seattle's Washington Park Arboretum, as most other plants in the collection there, suffer from too much shade cast by wild native trees, in this instance western red cedar and bigleaf maple. Nonetheless, the three apricot specimens do set fruit. They are shrubby, with the stoutest trunk over 4 inches thick, coated in cherry-like bark; the tallest is about 15 feet. I have read reports that this species can attain 20 feet in height. It would be interesting to see how much an improvement could be made if one grew specimens in proper sunshine, and if one pruned them. The arboretum trio are uncared for. I do not find them worthy as ornamentals, but believe their fruit, ripe in late August or September, is agreeable, and if more of us grew and experimented with this species, we might be pleasantly surprised.
Back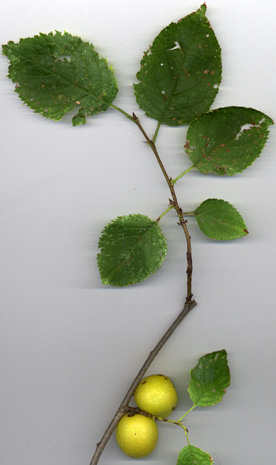 Prunus brigantina scan by ALJ