Edible succulent plants excite me --they not only delight the eye with their fascinating beauty, and are easily grown and propagated, but can also be eaten. Some crunchy leaves added to a salad are welcome. A South African succulent species in the ice plant group, is my current subject. Though bland and therefore not notably worth eating, I write about it because of persistent mislabeling in nurseries of its cultivars and hybrid. In Swaziland, this species is reported to be a love charm, and a protection against sorcery.
The Aptenia genus was established in 1925. But the current (2008) edition of Mabberley's Plant-Book states that Aptenia species are not sufficiently distinct from the genus Mesembryanthemum. If this course is adopted, plants sold as Aptenia cordifolia should return to being Mesembryanthemum cordifolium. In the U.S.A., the most prevalent selections of Aptenia being sold are the clones:
1) 'Red Apple' (a hybrid)
and
2) 'Variegata' (white-edged leaves).
Flora North America states: "Aptenia cordifolia petals pink to purple (red in hybrid cultivar 'Red Apple')."
Aptenia 'Red Apple' is Aptenia cordifolia hybridized with the yellow-flowered Aptenia Haeckeliana --previously known as Platythyra Haeckeliana. As for Aptenia cordifolia 'Variegata', it is unfortunately often if not usually sold wrongly as the Dorotheanthus bellidiformis 'Mezoo'. This prevalent error is hard to understand, because the genus Dorotheanthus is markedly dissimilar from Aptenia.
On the UBC Botanical Garden Forum, a 2008 post from Cereusly Steve states: "'Red Apple' is easily distinguished from Aptenia cordifolia by its larger red flowers, larger plant size and the leaves more elliptical in shape rather than strongly cordate (heart shaped). The true Aptenia cordifolia has purple not red flowers and strongly cordate leaves." Moreover, 'Red Apple' is a weedy invasive in frost-free climates, and typical Aptenia cordifolia is rarely or not weedy. Reports of Aptenia cordifolia being weedy, likely are cases of mistaking 'Red Apple' for it.
The 2000 book Encyclopedia of Fruit Trees and Edible Flowering Plants of Egypt and the Subtropics by Alfred G. Bircher and Warda H. Bircher, states that Aptenia cordifolia leaves can be eaten like spinach. I have read, and experienced, that the same succulent's leaf flavor can vary from good to bland to poor depending on time of year. For example, the spring foliage, young and tender, may be worth eating, while the mature leaves become less palatable. Also, one cultivar or clone of a given species can taste better than another. I find the pure green foliage of 'Red Apple' bland, and the paler foliage of 'Variegata' bad tasting. I desire to taste authentic purebred green Aptenia cordifolia. It may be as poor tasting as 'Variegata' or as good as 'Red Apple' . . .
These plants are prized as groundcovers in frost-free areas, and as potted plants both indoors and out. If you buy one from a nursery, do not taste it for a couple of months, in case it has insecticide residues that first need to break down.
Back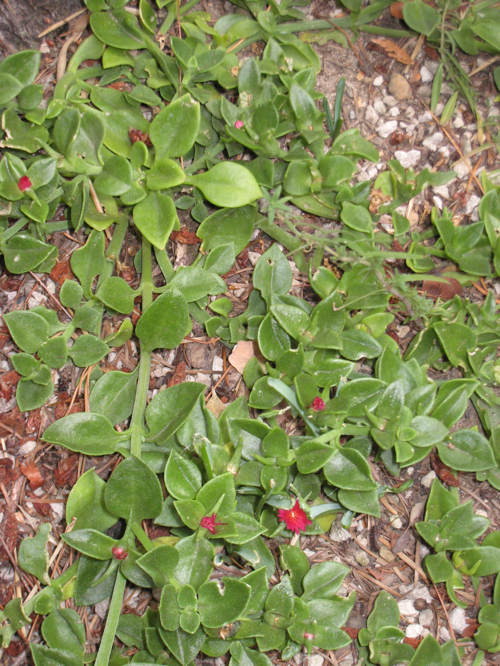 Red Apple ice plant photo by ALJ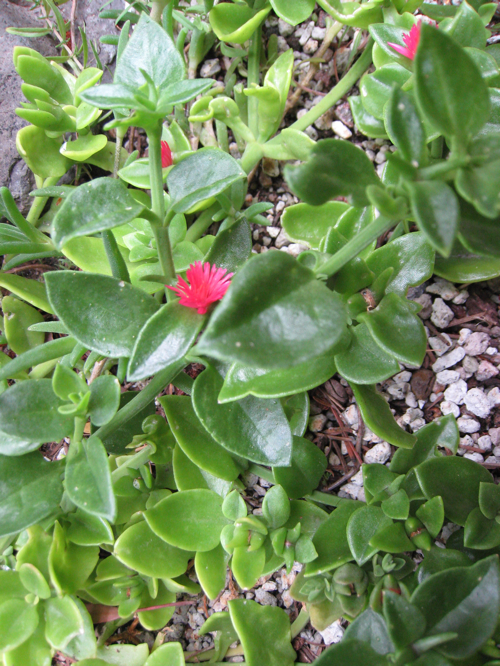 Red Apple ice plant photo by ALJ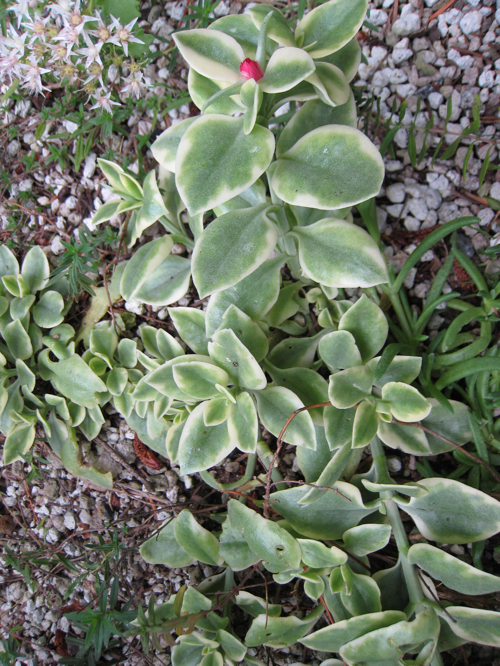 'Variegata' ice plant photo by ALJ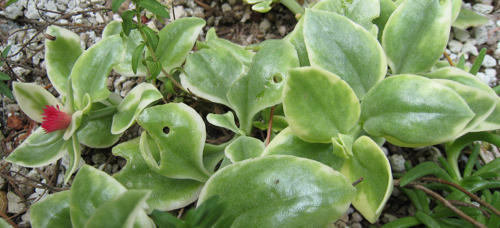 'Variegata' ice plant photo by ALJ