Plant of the Month: September 2011
Peruvian Peppertrees in Seattle
Schinus Molle L.
?= S. Areira L. 1753
?= S. Molle var. Areira (L.) DC. 1825
= S. Molle var. Huyugan (Mol.) March.
= S. Huigan Mol. 1782--(Saggio sulla storia naturale del Chili p. 169)
= S. Huygan Mol. 1782--(Saggio sulla storia naturale del Chili p. 355)
ANACARDIACEÆ; Cashew Family
Seattle gardeners have been exasperated by two winters in a row, that were comfortably mild overall, but --as it were-- poisoned with brief freezing periods that inflicted the most severe damage to landscape plants since 1990. In November 2010, Seattle's low temperature was 14 to 18 degrees F --depending on where the reading was taken. All of November 21st through the 25th was notably frigid; many plants were injured or killed; for example, nearly all Acacia and most Eucalyptus species. Those marginally hardy species that survived, offer us inspiration and hope --especially if we had expected them to perish. This month I offer an example: an apparently cold-hardy individual of the famous Peruvian Peppertree, Schinus Molle. In my 1996 book North American Landscape Trees, I wrote about it, and below repeat as much --with additions.
The genus Schinus consists of 15 to 33 species, all evergreen shrubs and trees from Central or South America. The name was taken from the Greek schinos, --the Mastic tree, Pistacia Lentiscus, which this genus resembles in its resinous juice. Related genera include Cotinus, (smoke tree), Pistacia (pistachio), and Rhus (sumach).
The species highlighted at present, Schinus Molle, is cultivated widely for its fine, graceful foliage, on a rugged dark trunk --as if elegant shiny green fabric were draped on craggy dark rock. The tree is native to the American tropics and subtropics: Mexico, Colombia, Ecuador, Brazil, Paraguay, Uruguay, Argentina, Bolivia, Peru, ascending to 11,811 feet (3,600m) elevation or even (per Riedel) 12,750 feet in the Andes.
The epithet Molle is from the old Peruvian (Quechua) name Mulli. The tree's many vernacular names include: Pepper tree. California Peppertree. Peru or Peruvian Peppertree. Peruvian Mastic-tree. Aguaribay. Anacauíta. Arbol de la Vida. Aroeira. Aroeira-salso. Aroeira-salsa. Aroeira de Jardim. Aroeira de Salão. Aroeira-folha-de-salso. Aroeira-mole. Aroeira Molle. Aroeira-periquita. Bálsamo. Corneiba. Corneita. Cullash. Cuyash. Falsa Pimienta. Fruto-de-sabiá. Huaribay. Huigan (Huiñan. Huingan). Molle (Mulli, Molli). Pimenteiro (Pimenteira, Pimentero, Pimento). Pimentero Peruano. Pimenta del Perú. Salseira. Terebinto.
Seeds were found in adobe bricks of a mission at La Soledad, California, founded in 1791, but the early 1800s is the only conclusive date for its introduction to California. It is weedily naturalized there and in S Texas. In much of the world it is very well known. It is a tree of elegant aspect like a weeping willow. It is reported to be cold-hardy only to at most 10 degrees F, but is often if not usually killed at even higher temperatures. The tree is beautiful, aromatic, drought-tolerant, and useful. It is called Pepper tree because the seeds were once used to adulterate pepper. They also are used to make a traditional beer (chicha) in Peru. And it is used in medicine, as bug repellant, for dye, and fuel. It withstands drastic pruning. On the other hand, its sap hurts car paint, it harbors the black scale Citrus pest, it is brittle and has messy berries, its roots invade sewers and break walks, its flowers contribute to hayfever, it is subject to oak root fungus, scale insects, consuming too much of its fruit is injurious, and it can be weedy.
Below are 4 record sizes:
130 feet tall recorded in Peru
70 feet tall Moor Park, CA (ca. 1980)
54 feet tall, 30 feet trunk circumference and 75 feet wide at San Juan Capistrano, CA (1969)
47 feet tall, 26 feet 10 inches trunk circumference and 83 feet wide at Santa Barbara, CA (1972)
Male and female flowers are usually on separate trees; they are not showy. The leaves are compound, consisting of 14 to 60 shiny leaflets; fragrant when crushed. The fruit is peppercorn-sized, light pink turning rose-red, and eventually washed-out tan, conspicuous in fall and winter.
Several botanical variants have been named, and at least one cultivar. But both in the past and now, taxonomists disagree on what is a species and what a variant. The practical effect to gardeners is this: if we call Schinus Molle a variable species, and do not name the cold-hardy version(s), then we are at a disadvantage. If on the other hand we recognize as a variant --or species-- Areira, it seems to be --based on scant evidence-- the more cold-hardy. Nearly all the recent printed sources I consulted are adamant that Areira is a mere nomenclatural synonym of typical S. Molle. However, the online Plant List (www.theplantlist.org) maintains Areira at specific level. If it is a separate species, then what looks different about it? I have not found this answered adequately.
Colvos Creek Nursery, near Seattle, has sold seedlings of Areira from about 2002 to 2009, though not every year. In June 2009 I bought one, several years old. It is now 3 feet tall, looks to be about 6 years old, and appears to have suffered minimally in the freezes --its very tender tips were killed. In the same garden, plants of mine that were injured severely if not killed included: Aloysia citriodora, Cordyline indivisia, Eucalyptus lacrimans, Gaultheria Forrestii, Myrica quercifolia, 10 kinds of Pelargonium, Thalia geniculata, and Vaccinium consanguineum.
The longest leaves of the tough young tree measure 6 inches, with up to 22 leaflets. The nursery owner, Mike Lee, wrote of this version: "a rare form of the CA pepper tree with the feathery, evergreen leaves thicker than in the typical form, bright green; bark a striking pale cream and green blend; fruit rosy-red; likely hardier than the species, perhaps zone 8 [compared to zone 9]." Mike told me he had collected seeds in Los Angeles, California. He reports: "I can't see any differences between it and the 'normal', except that the leaves may be a bit thicker and the form of this tree is bushier than most. You would think in its crowded spot it would be tall and slender; it is about 30 ft. tall and nearly as wide, I would guess, and somewhat thin because of the shade."
In short, no doubt practically all Peruvian Peppertrees are cold-tender, but apparently at least a few individuals exist to give gardeners in frosty areas, hope.
Back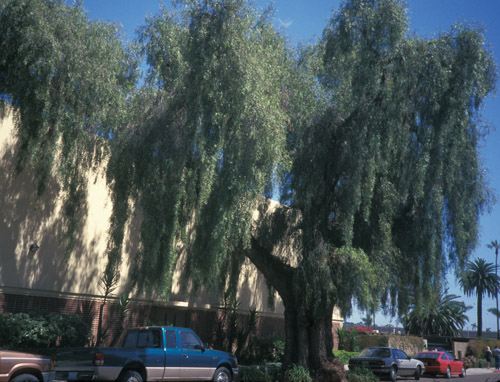 a large street-tree Schinus Molle; San Diego, April 1997; photo by ALJ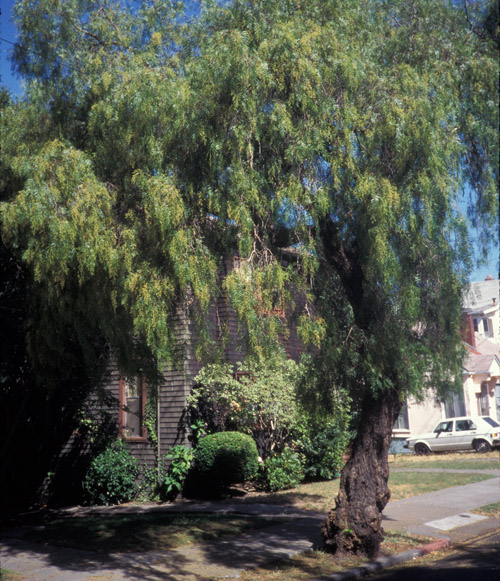 a small street-tree Schinus Molle; Berkeley, July 1995; photo by ALJ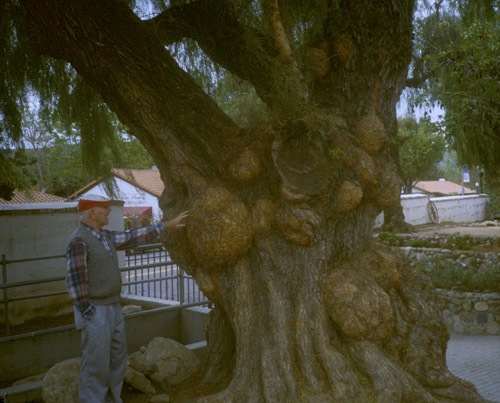 a huge Schinus Molle; Mission San Juan Capistrano, April 2007; photo by ALJ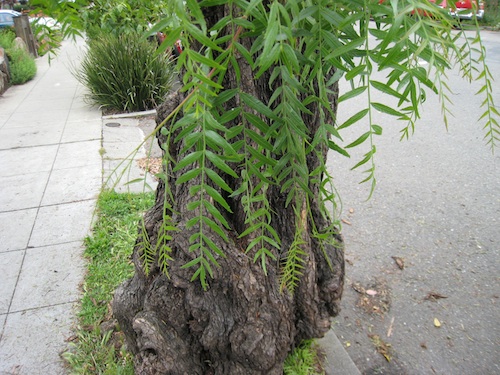 trunk & foliage of Schinus Molle; photo by ALJ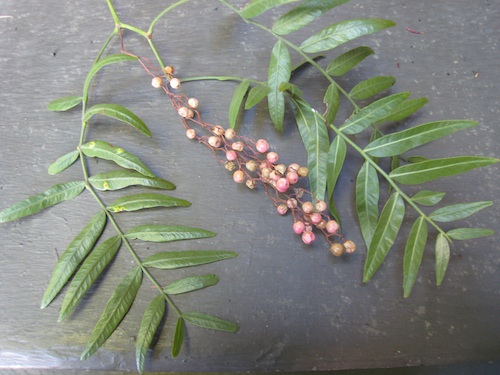 peppers of Schinus Molle; photo by ALJ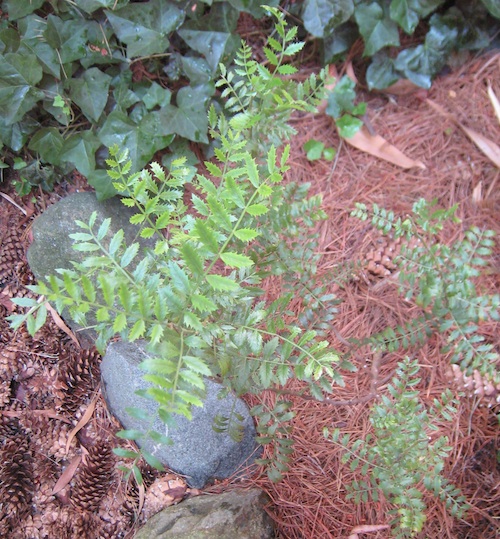 small Seattle Schinus Molle; September 2011; photo by ALJ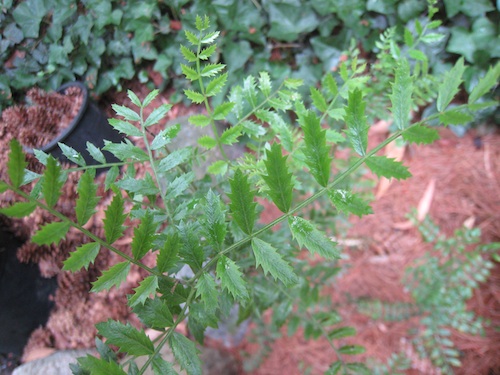 small Seattle Schinus Molle; September 2011; photo by ALJ